Are you rethinking your drinking?
Thankfully, it's now easier than ever to migrate from alcohol forward cocktails to low or no-alcohol options by simply switching our cocktail-making ingredients. At Bradshaws, we have a fantastic selection of non-alcohol wines and sparkling wines, non-alcohol spirits such as gin, tequila and bourbon and a variety of high quality tonic waters, ginger beers, mixers and bitters to help elevate your new non-drinking approach.
Sobrii + Sapsucker Pal-NO-Ma
1 oz Grapefruit Juice
0.5 oz Lime Juice (freshly squeezed)
1 oz Simple Syrup
Top with Sapsucker Grapefruit or soda water (3-4 oz)
METHOD 
Fill a glass with ice and add Sobrii, Grapefruit juice, lime juice and simple syrup. Top with Sapsucker grapefruit )or soda water) and give it a gentle stir. Garnish with a curled grapefruit peel.
Insider Tip: Did you know that Sobrii is made in Stratford, Ontario? We love this Canadian-made alcohol-free line!!
Sobrii Ginger Spiced Apple Cider
1 oz Sobrii 0-Gin
8 oz of hot apple cider*
1 Cinnamon stick
2-3 whole cloves
1 barspoon of honey (optional)
METHOD (SINGLE SERVING)
Grab a mug, pour in the Sobrii gin, and fill the mug with hot apple cider. Garnish with freshly diced apples.
*Hot apple cider:
Toast the cinnamon and cloves in a small saucepan for 2-3 minutes, and then add the apple cider. Add the honey and dissolve. Bring to a simmer, serve immediately or keep warm on the stove.
If you've got a special occasion to celebrate, try serving these alcohol-free bubbles at your next party!
With almost half the sugar content of other non-alcoholic sparkling wines, Noughty Sparkling Chardonnay or Noughty Sparkling Rosé are the perfect answer to a hangover-free celebration.
Tired of red wine hangovers? Try
Noughty Rouge
…  a smooth and well-balanced dealcoholized red wine that exhibits ripe fruit characteristics, crushed black pepper, and dried rose petals.
Noughty Rouge is made from Syrah grapes grown on dry land in Darling, South Africa, and aged for 12 months. Strategic locations are selected where grapes are grown so that they receive the warm sun and the cooling winds.
This sophisticated wine is low in sugar, is gluten free, low on calories, and B-Corp certified, making it suitable for anyone.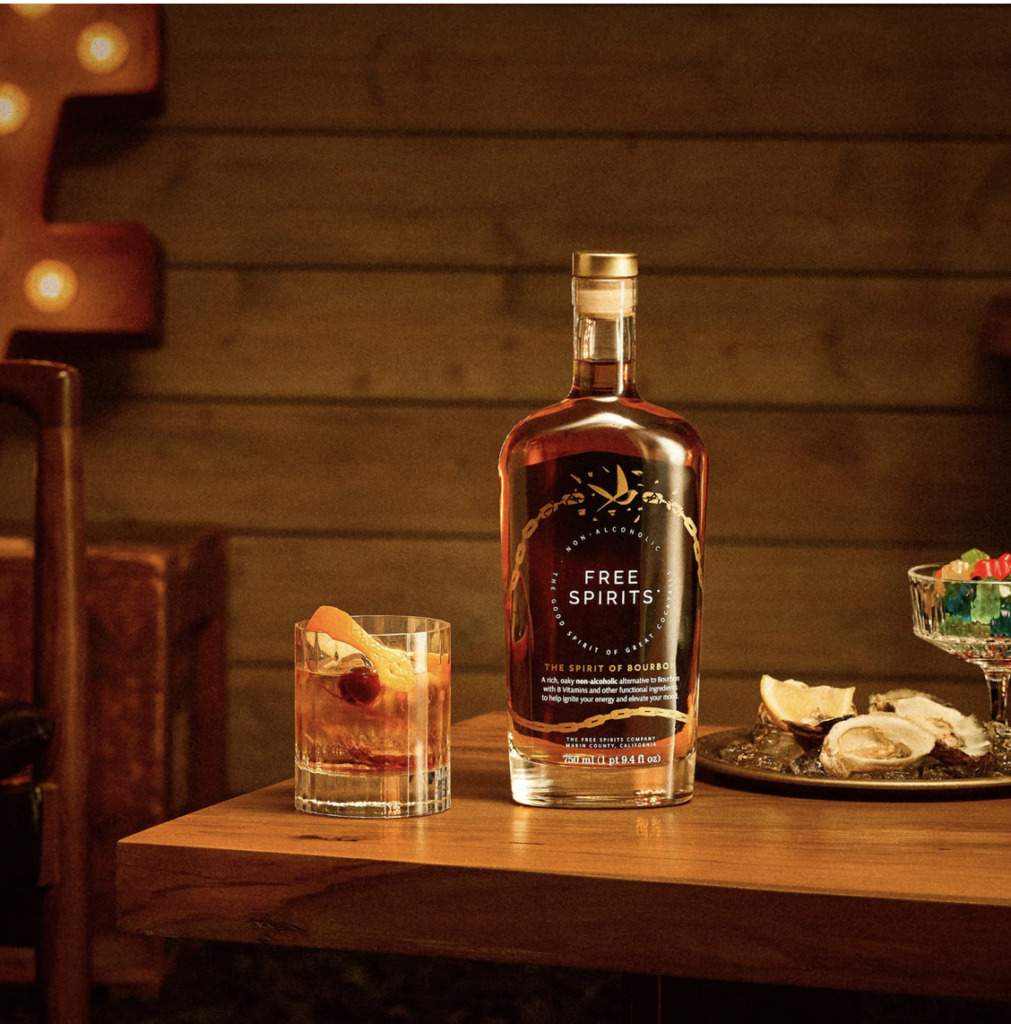 Be a free spirit and try using alcohol-free spirits when crafting your cocktails at home. 
The Spirit of Bourbon, a rich, oaky, caramel-kissed non-alcoholic alternative to a great Kentucky bourbon, is made with all-natural flavors and functional ingredients to awaken your taste buds, helping elevate your mood, and recharge your body.
With an oaky-caramel nose, followed by a velvety-smooth, malty, brown sugar palate, The Spirit of Bourbon is the heart and soul of your favorite cocktail.
Free Spirit Bourbon Shakerato
3 oz The Spirit of Bourbon
1 1⁄2 oz espresso
1 tbs sweetened condensed milk
1 1⁄2 tsp simple syrup
2 dashes of chocolate bitters
METHOD
Add all ingredients to an iced shaker and shake briefly
Strain over ice into a tall glass
Garnish with whipped cream and shaved chocolate
---
Share this post