We have teamed up with our friend Tracey of Perfect Pastry to once again bring you some incredible recipes made with Tracey's Perfect Pastry – available at Bradshaws in our freezer! Fall inspired recipes you can bake to perfection in our Emile Henry Deep Flan dish – Reg:$56.00, NOW on sale for $39.95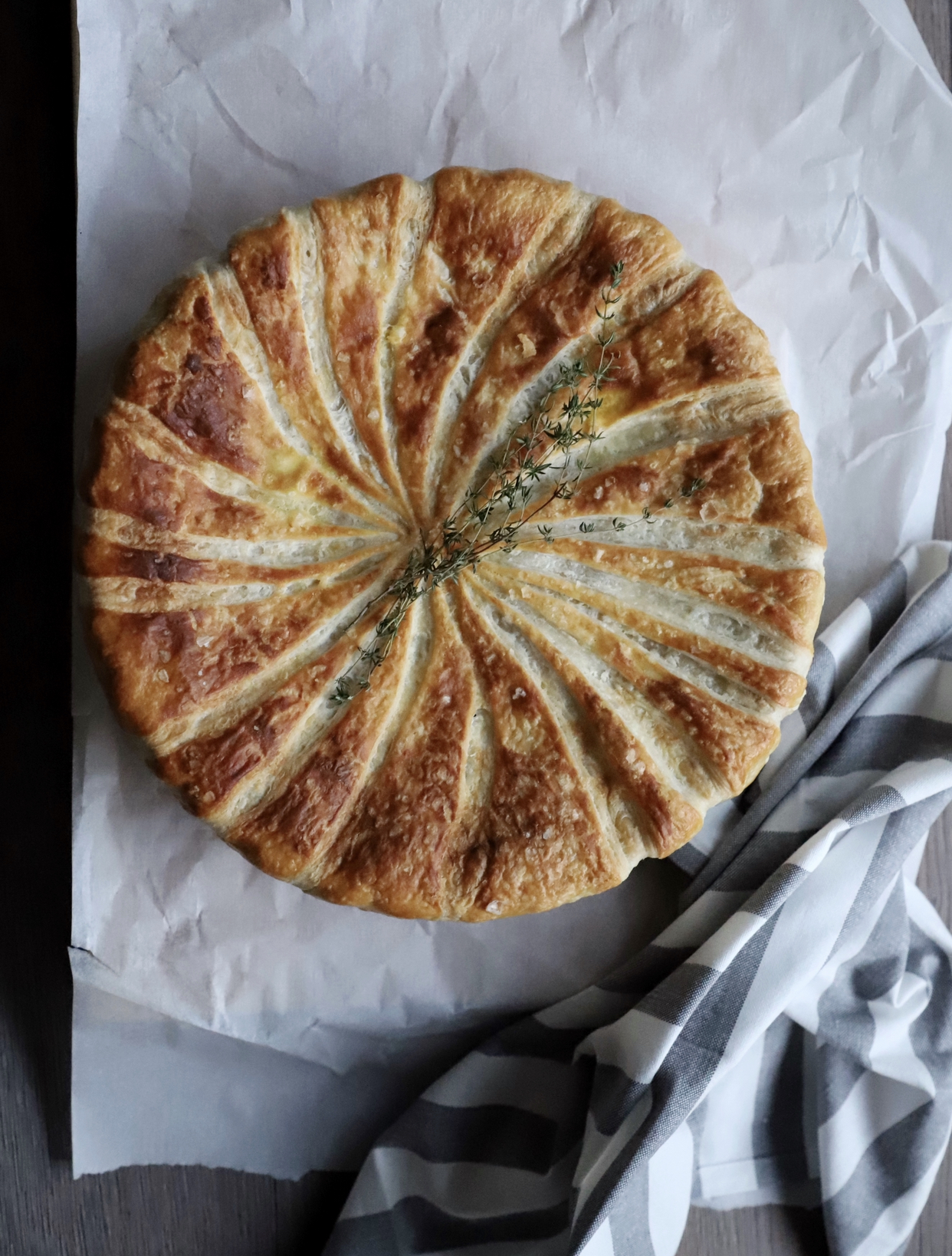 Coq Au Vin Pot Pie
3 tbsp olive oil
6 slices of bacon, cut in 1" pieces
6 – 8 boneless, skin on Chicken thighs and breasts
Salt and pepper
2 cloves garlic, chopped
1 onion, sliced
½ bottle Red wine
1 cup Chicken stock
8 Sprigs of fresh thyme 
2 tbsp butter and 2 tbsp flour mashed together
½ lb Pearl onions – peeled and blanched until just tender
½ lb cremini mushrooms, stems removed and sauteed in butter 
1 package of Perfect Pastry Puff, defrosted
Egg wash – 1 egg mixed with 1 tbsp water
Preheat oven to 250F
Heat oil in large Dutch oven. Add bacon and cook over medium heat until browned and remove to a plate with a slotted spoon 
Dry chicken pieces on paper towel, and sprinkle with salt and pepper. Add the chicken in a single layer in the Dutch oven to brown – approximately 5 minutes per side. Remove the chicken to the plate with the bacon. 
Add the garlic and onions to the pot and saute until tender
Add the bacon, chicken and juices to the onion mixture, then add the wine, stock and thyme sprigs.
Cover the pot and place in the oven for 30-40 minutes
Remove from oven and place on stovetop
Stir in the mashed butter and flour. This will thicken the sauce slightly
Add the pearl onions and sauteed mushrooms 
Cool. This can be made a day in advance and chilled in the fridge until ready to top with the pastry.
Preheat oven to 400F
Place Coq au Vin in your gorgeous Emile Henry baking dish. The filling will fit perfectly! 
Roll out puff pastry on lightly floured surface large enough to fit over the casserole and hang over the edge slightly  
Before placing the pastry over the pie, decoratively score the top. Brush with egg wash. Place pastry over the dish and place dish on a baking tray
Bake 10-15 minutes until pastry is puffed and golden. Reduce temperature to 375 and continue to bake until filling is bubbling hot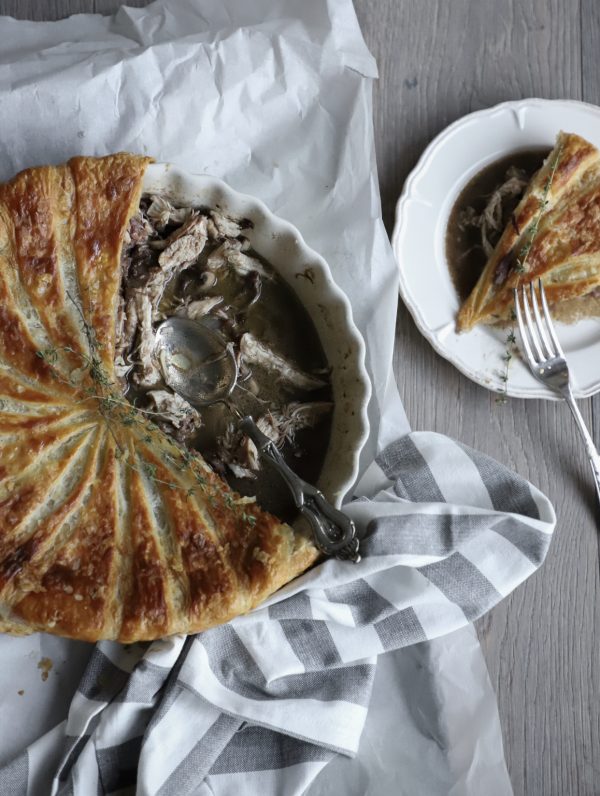 And a perfect Fall vegetarian main or side dish.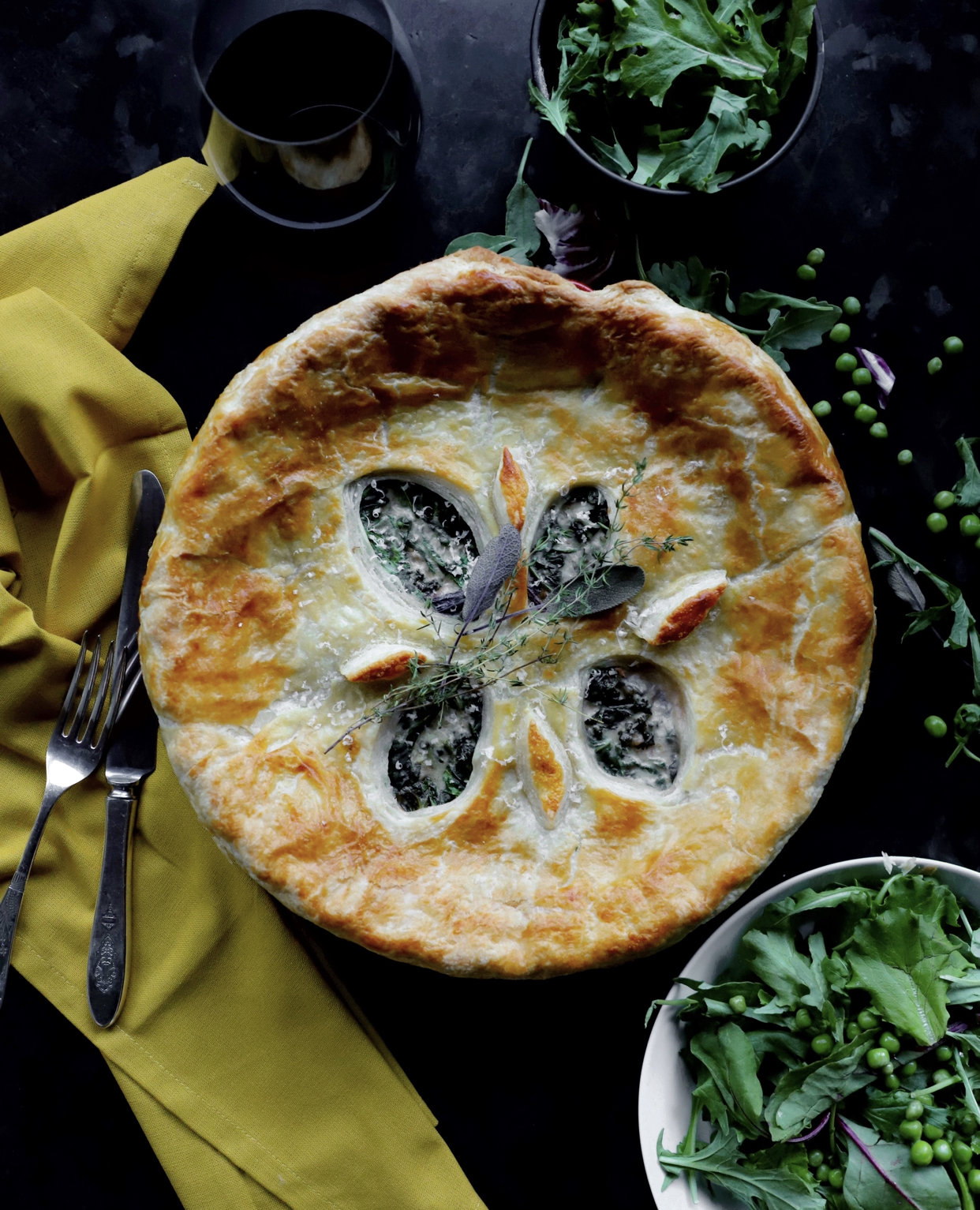 Creamed Greens under Puff 
1 bunch beet greens or swiss chard, stems removed and torn into large pieces
1 large bunch spinach, washed 
1 bunch kale, stems removed and torn into large pieces
3 tbsp oil 
2 tbsp butter
4 garlic cloves, peeled and sliced
4 shallots peeled and sliced
2 cups heavy (35%) cream
A couple of dashes of hot sauce
1 tbsp of flour
½ cup or more Grated gruyere or parmesan
1 package of Perfect Pastry Puff, defrosted – available at Bradshaws
Egg wash – 1 egg mixed with 1 tbsp water
Preheat oven to 400F
In a large skillet over medium heat melt the butter with the oil.  Add the garlic and shallots. Cook, stirring occasionally until softened, about 5 minutes
Add all of the greens a handful at a time and toss them into the butter mixture with tongs until wilted. Season to taste with salt and pepper 
Stir in the flour, then the cream, hot sauce and cheese. Remove from heat to cool. Place in the gorgeous Emile Henry dish.
On a lightly floured surface roll pastry into a circle slightly larger than the casserole dish. Decoratively score the pastry, and drape over the greens. Brush with egg wash and bake until pastry is puffed and golden, about 15 minutes. Reduce temperature to 375F and bake until the pastry is cooked through and filling is bubbling about 30 minutes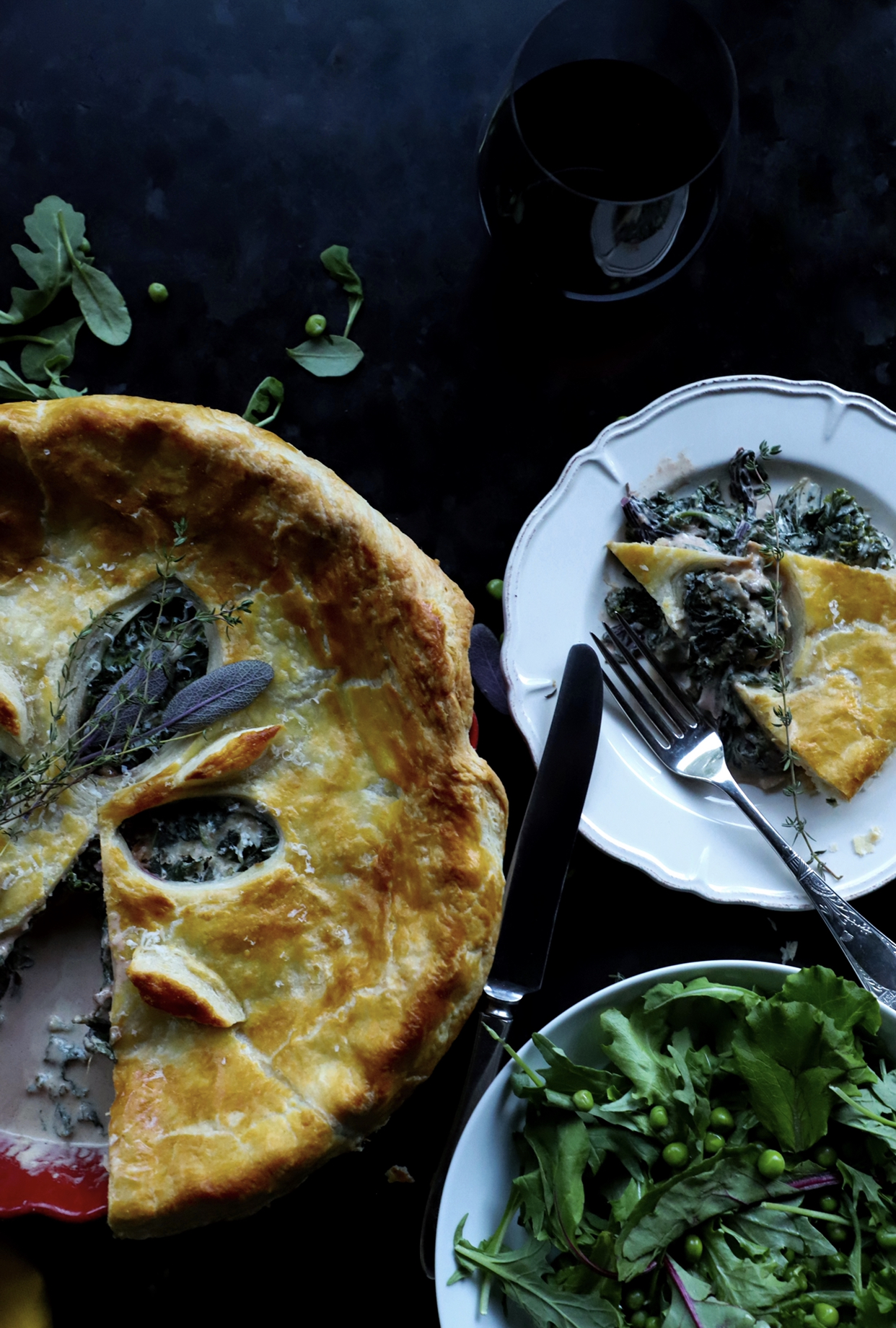 ---
Share this post