However your Thanksgiving celebrations look this year – we have a few tried and true recipes you will LOVE and they are all pretty easy but will impress any guest!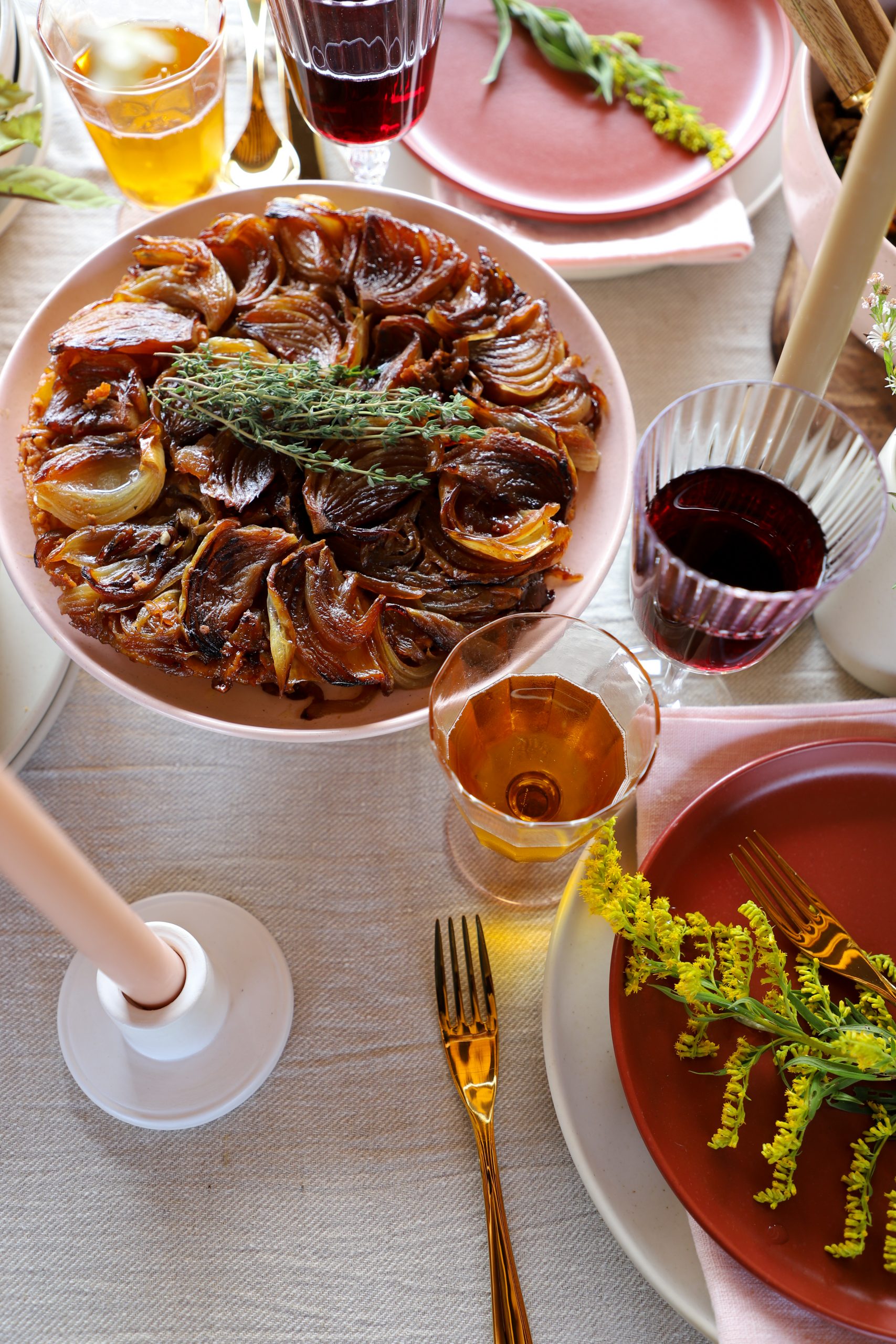 Ingredients:
4 tablespoons unsalted butter
5-7 small onions, peeled, stem end left in tact, and cut in quarters
salt and freshly ground black pepper
2 tbsp Stonewall Kitchen Onion Jam
2 sprigs rosemary
4 sprigs thyme
one 8-10 ounce sheet puff pastry, thawed if frozen
parmesan cheese
Directions: In a cast-iron skillet over medium heat, melt butter and add onions – in rounded quarters downward in the skillet. Arrange the onions as tightly as possible. Cook undisturbed until the onions have softened. Add 2 tbsp of Stonewall Kitchen Onion Jam. Continue to brown onions. 12-15mins.
While onions cook, roll out Perfect Pastry Puff Pastry on a lightly floured surface. Cut a circle the size of the skillet, score pastry a few times with fork. 
Place 1.5 cups grated aged parmesan cheese over the onions. Gently drape the pastry over the onions, folding in a little at the edges to encase the onions.
Bake in the oven until pastry is golden – 20-25 minutes. 
Then invert the skillet on a serving platter, garnish with rosemary or thyme sprigs.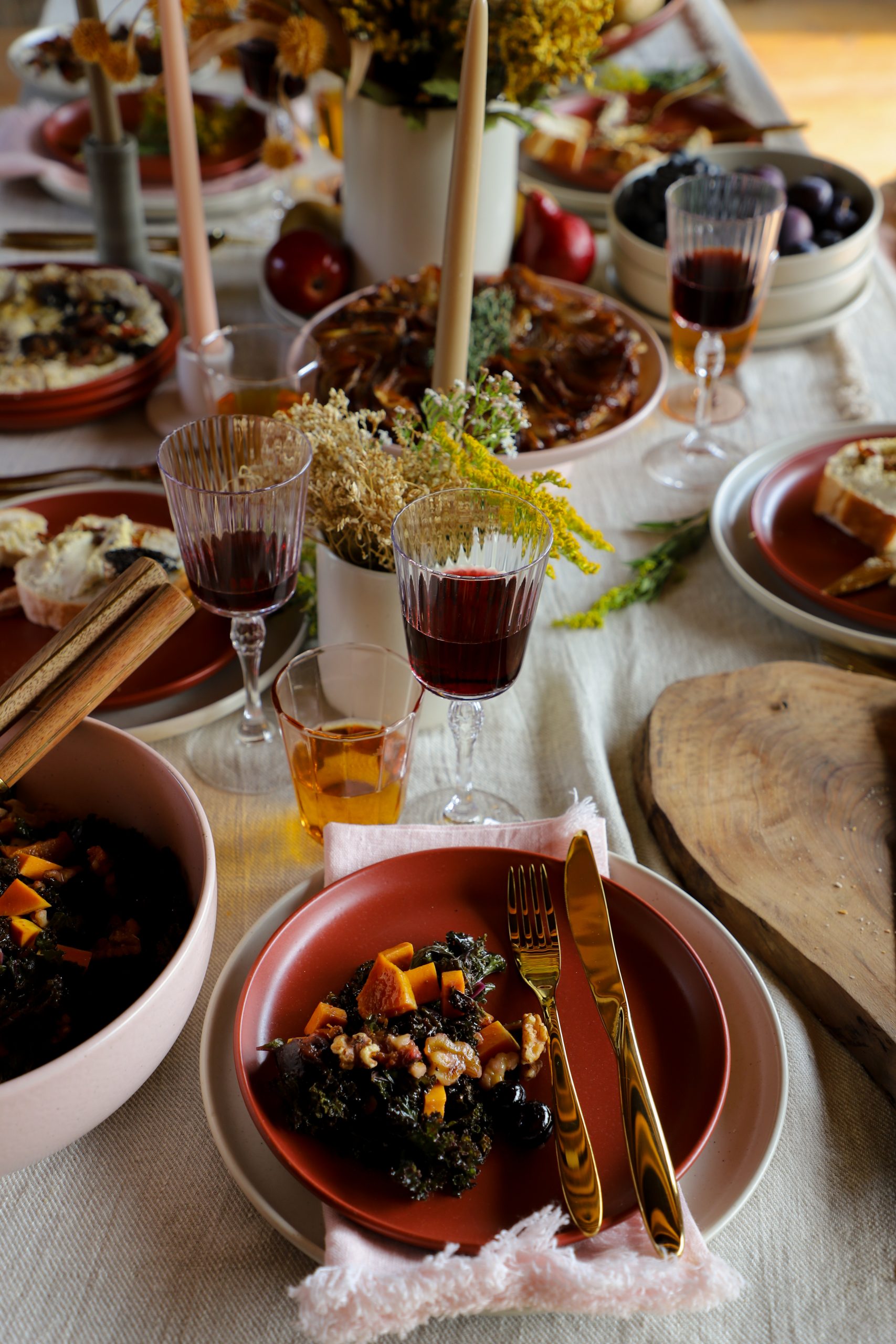 Roasted Butternut Squash Kale Salad
Ingredients:
roasted butternut squash
big bunch kale
lightly toasted walnuts – dry roasted in a pan over medium heat for 10 mins
figs – cut into quarters
grated aged parmesan 
AND the secret ingredient, the dressing –
Wild Mushrooms on Goat Cheese
Roast micro-planed garlic in olive oil in a pan over med heat, once fragrant add olive oil + minced garlic to goat cheese and mix together. 
Sprinkle goat cheese garlic mixture with our Kanel Porcini Umami Rub, salt and pepper. Mix well. 
Sauté wild mushrooms in olive oil and garlic. 
Spread goat cheese mixture on a plate, top with sautéed mushrooms drizzle with olive oil and sprinkle with more Kanel Porcini Umami Rub. 
Serve with crusty bread for a perfect side dish, or appetizer. 
Carrie's Go-To no knead Bread Recipe
One of the most popular recipes The Times has ever published, courtesy of Jim Lahey, owner of Sullivan Street Bakery. It requires no kneading and it takes very little effort — only time. You will need 24 hours to create the bread, but much of this is unattended waiting, a slow fermentation of the dough that results in a perfect loaf.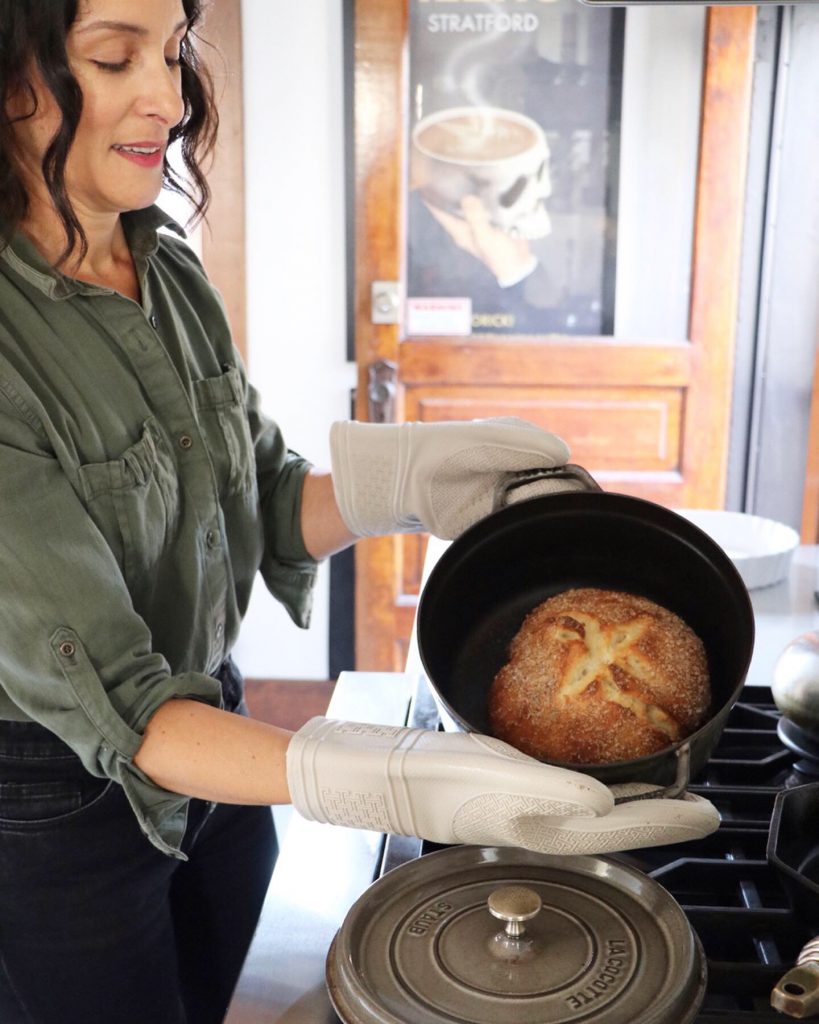 INGREDIENTS
3

 

cups all-purpose or bread flour, more for dusting

¼

 

teaspoon instant yeast

1 ¼

 

teaspoons salt

Cornmeal or wheat bran as needed
PREPARATION
In a large bowl combine flour, yeast and salt. Add 1 5/8 cups water, and stir until blended; dough will be shaggy and sticky. Cover bowl with plastic wrap. Let dough rest at least 12 hours, preferably about 18, at warm room temperature, about 70 degrees.
Dough is ready when its surface is dotted with bubbles. Lightly flour a work surface and place dough on it; sprinkle it with a little more flour and fold it over on itself once or twice. cover loosely with plastic wrap and let rest about 15 minutes.
Using just enough flour to keep dough from sticking to work surface or to your fingers, gently and quickly shape dough into a ball. Generously coat a proofing basket with flour, wheat bran or cornmeal; put dough top down in proofing basket and dust with more flour, bran or cornmeal. Cover with a cotton towel and let rise for about 2 hours. When it is ready, dough will be more than double in size and will not readily spring back when poked with a finger.
At least a half-hour before dough is ready, heat oven to 450 degrees. Put a 6- to 8-quart cast iron French Oven/Cocotte in oven as it heats. When dough is ready, carefully remove pot from oven. Slide your hand under towel and turn dough over into pot, seam side up; it may look like a mess, but that is O.K. Shake pan once or twice if dough is unevenly distributed; it will straighten out as it bakes.  Cover with lid and bake 30 minutes, then remove lid and bake another 15 to 30 minutes, until loaf is beautifully browned. Cool on a rack.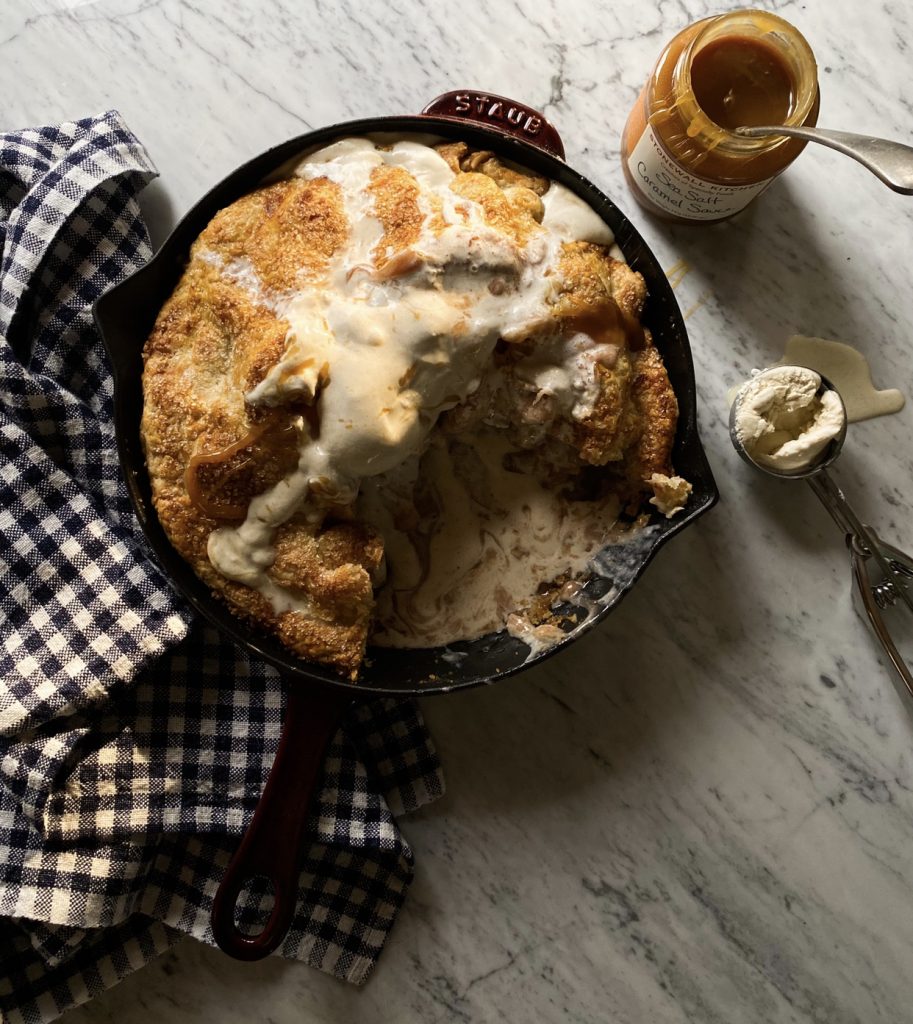 The Best Skillet Apple Pie
---
Share this post