We've been getting so many orders for our Staub Cast Iron Fry Pan Set that is currently on SALE for $179.00 (REG: $340.00)… that we have once again teamed up with Tracey of Perfect Pastry to give you another recipe for these versatile pans! DESSERT! And it is quite literally,  the BEST Skillet Apple Pie.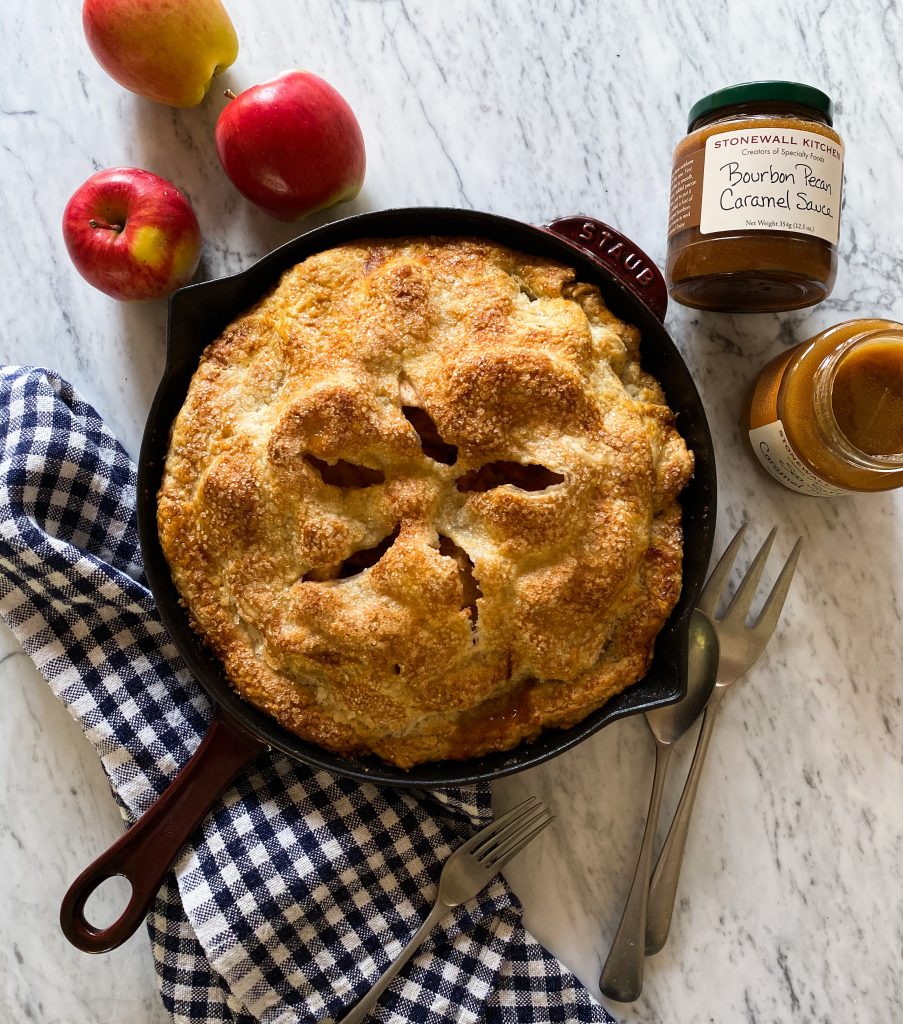 Skillet Apple Pie
Made in 10.25″" Staub
Preheat oven to 375F
INGREDIENTS
1 package Perfect Pastry shortcrust pastry AVAILABLE at Bradshaws – defrosted
6-8 large apples peeled, cored and sliced in to roughly ¼"- ½" slices.
*Tracey recommends using – 4 Granny Smith for tartness and 4 honey crisp for sweet. Mixing up the apples makes the pie
more interesting in flavour and texture
1 cup Sugar
1/3 cup Flour
1 tsp Cinnamon
Egg wash – 1 egg mixed with a splash of water or cream
DIRECTIONS
Slice the pastry in half. Each half will become a top and bottom for your pie. Roll 1 piece pastry on a
lightly floured surface until it is large enough to fit in the skillet with about an inch overhang
Refrigerate while you prepare the filling.
Toss apple slices, sugar, flour and cinnamon together and pour in to prepared tart shell
Refrigerate again while you roll out the top. Keeping pastry cool is key to a great pie!
Roll out the second piece of pastry as before and drape it over the apples. Take the bottom and top
crusts and tuck them together, under and in to the skillet.
Brush egg wash over the top. Cut decorative slits in the pastry.
Sprinkle coarse (or regular) sugar over
the top.
Bake pie for 20 min at 375 and then reduce to 350 for approximately 45 minutes or until pastry is
golden and filling is bubbling.
At the 20 min mark, it's not a bad idea to place a baking tray on the shelf below the pie to catch any drips.

This pie has a lovely rustic look. It can be sliced or scooped right out of the skillet. Serve with vanilla ice
cream or whipped cream and drizzled with one of our gourmet Stonewall Kitchen sauces.
We used Stonewall Kitchen Salted Caramel.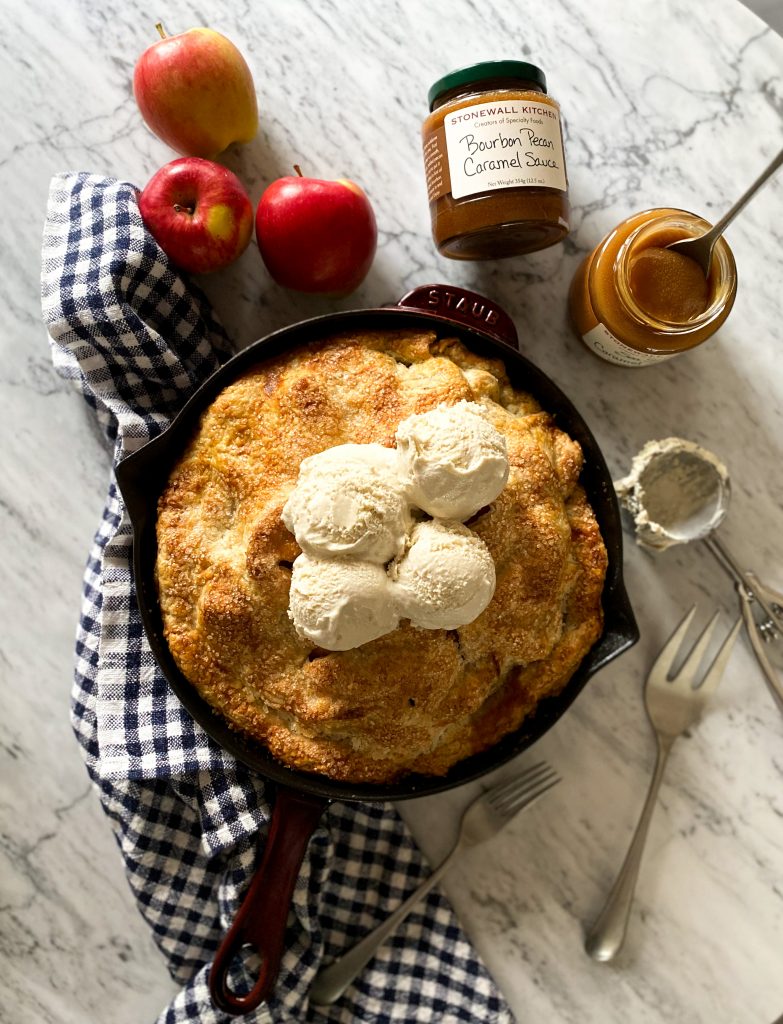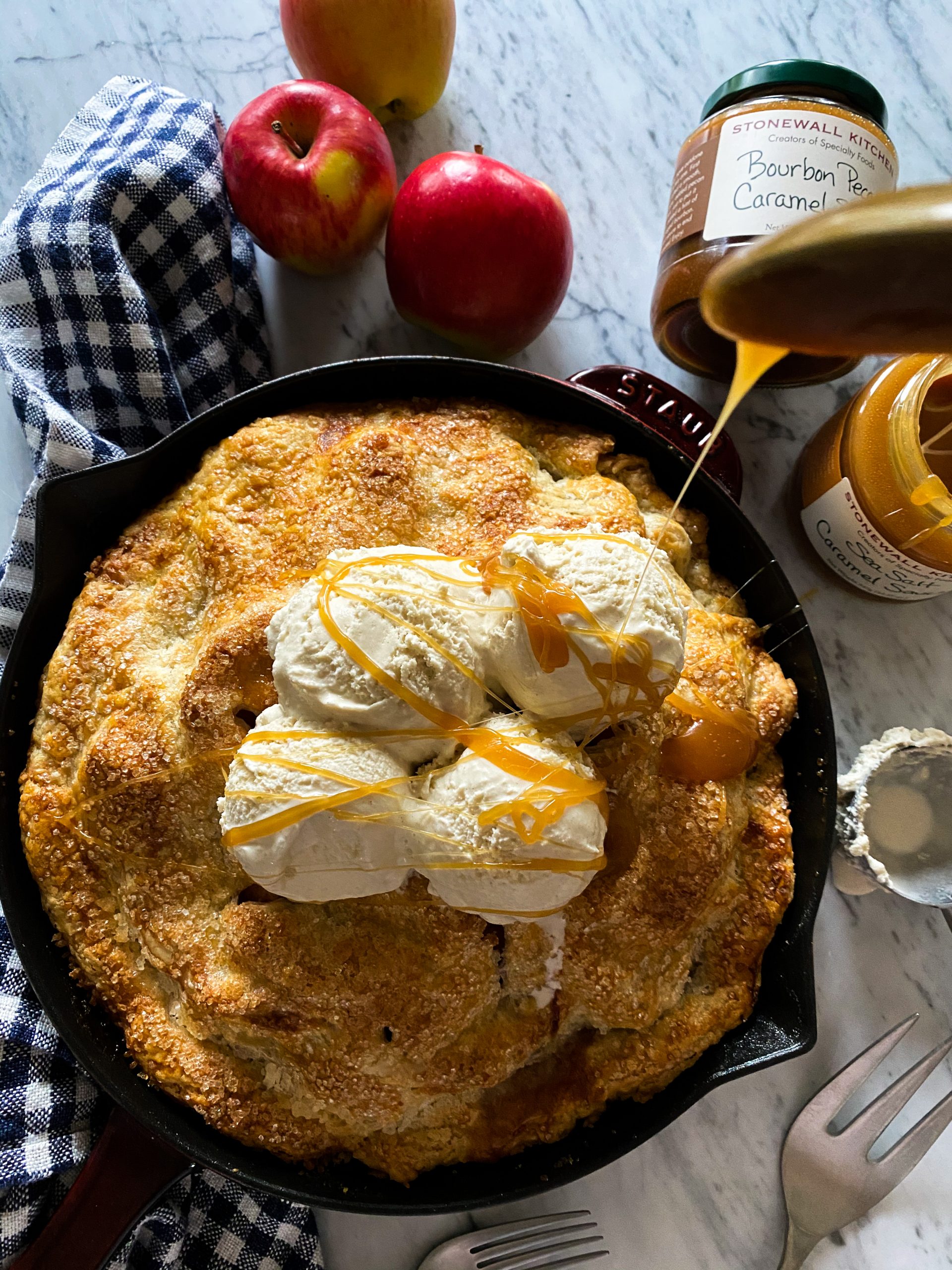 Call or email us to add Perfect Pastry Short Crust and a gourmet topping sauce like Stonewall Kitchen Salted Caramel or Bourbon Pecan to your Staub Cast Iron pan set purchase!
Click image below to purchase ONLINE 
Call 519 271 6283 Monday to Friday between 10am-2pm 
or EMAIL sales@bradshawscanada.com to order.
FREE local DELIVERY in Stratford and St. Marys.
---
Share this post