The New New Age is a line we love to carry at Bradshaws. Holistic health and wellness products made by this Canadian independent company that harvest their own organic ingredients in the Otter River Valley in Southwestern Ontario, Canada. Formulated by a herbalist, these products are of the highest, purest quality and are inspired by the interconnectedness of human and environmental health.  The New New Age practices ecological farming and ethical wildcrafting inspired by permaculture and Druidry.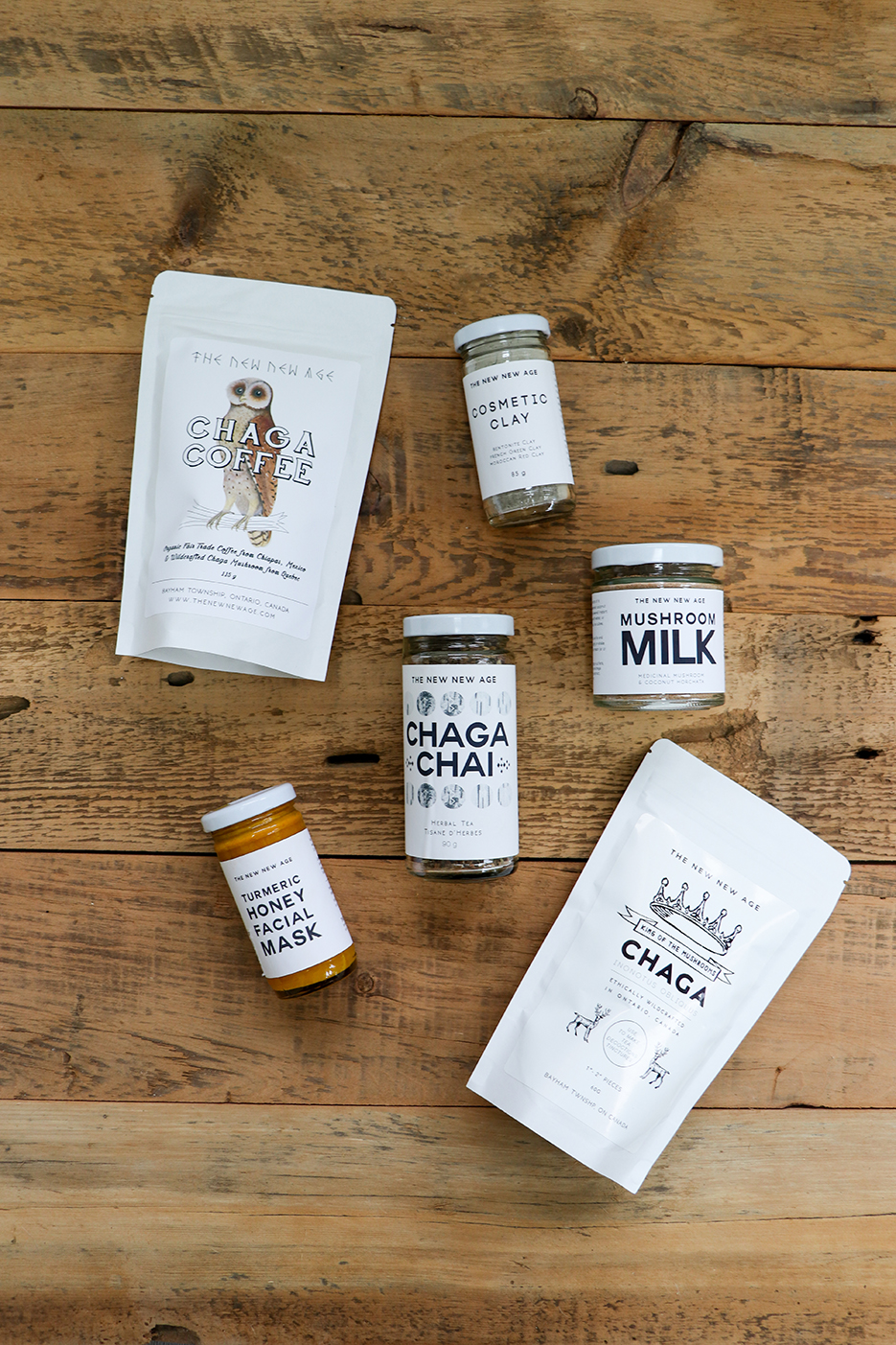 CHAGA Mushroom is a fungi that grows on birch trees in Norther Ontario. Used medicinally for hundreds of years as one of the most powerful antioxidants. Our Chaga Chai features this antioxidant-rich Chaga mushroom, ethically wildcrafted from pristine regions of Northern Ontario and Quebec, along side classic organic chai spices for a beautifully healing tea blend. Perfect for fall!
What is
 Mushroom Milk
??? 
This delicious blend of dehydrated organic coconut milk and 6 medicinal mushroom extract powders (chaga and reishi dual extract, lions mane, maitake, cordyceps, and turkey tail) is a creamy, nourishing instant beverage with immunomodulating and adaptogenic support.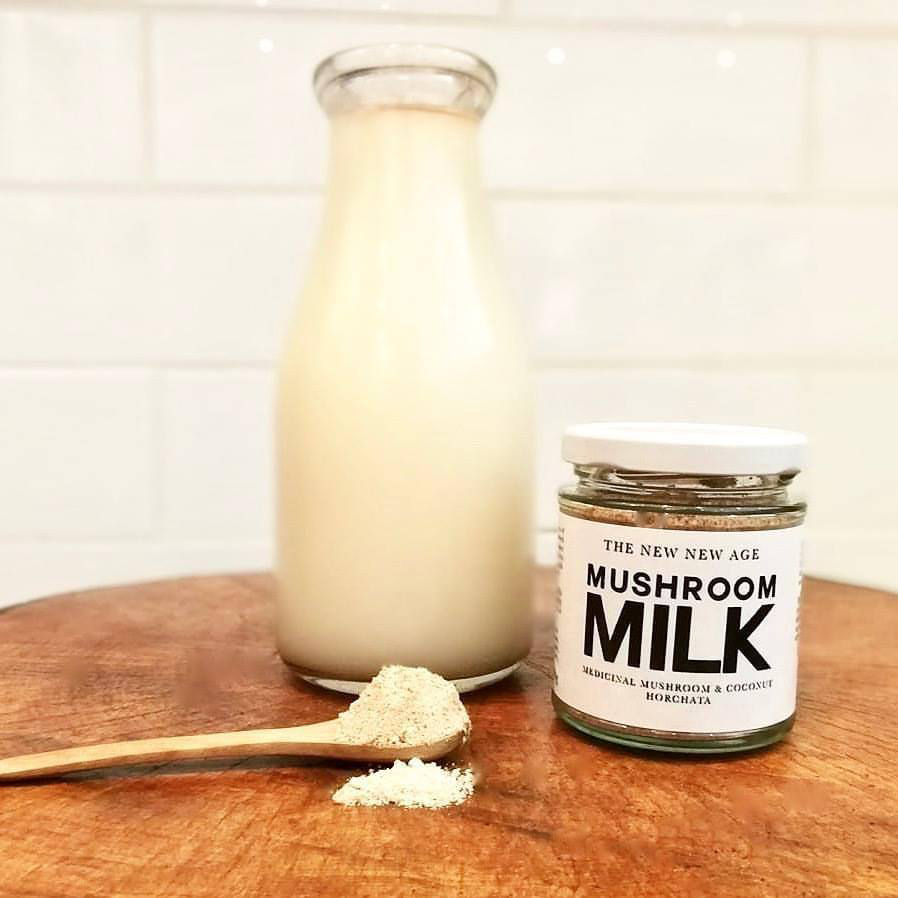 Mushroom Milk can be consumed in a number of ways. For an electrolyte-rich, energizing sports drink add 1 level tablespoon of Mushroom Milk powder to a cup of cold water. Shake well (mason jars or water bottles are great for this purpose) and enjoy straight up while exercising, as an afternoon pick-me-up/ appetite suppressant, or anytime you're craving a thirst quenching boost of energy
DIY Spa days or self care Sundays are rituals we love to incorporate into our busy lives and these are the perfect products for refreshing the face. An ancient healing secret that will make your face glow. A detoxifying facial clay mask made from the purest Bentonite, Moroccan Red and French Green clays.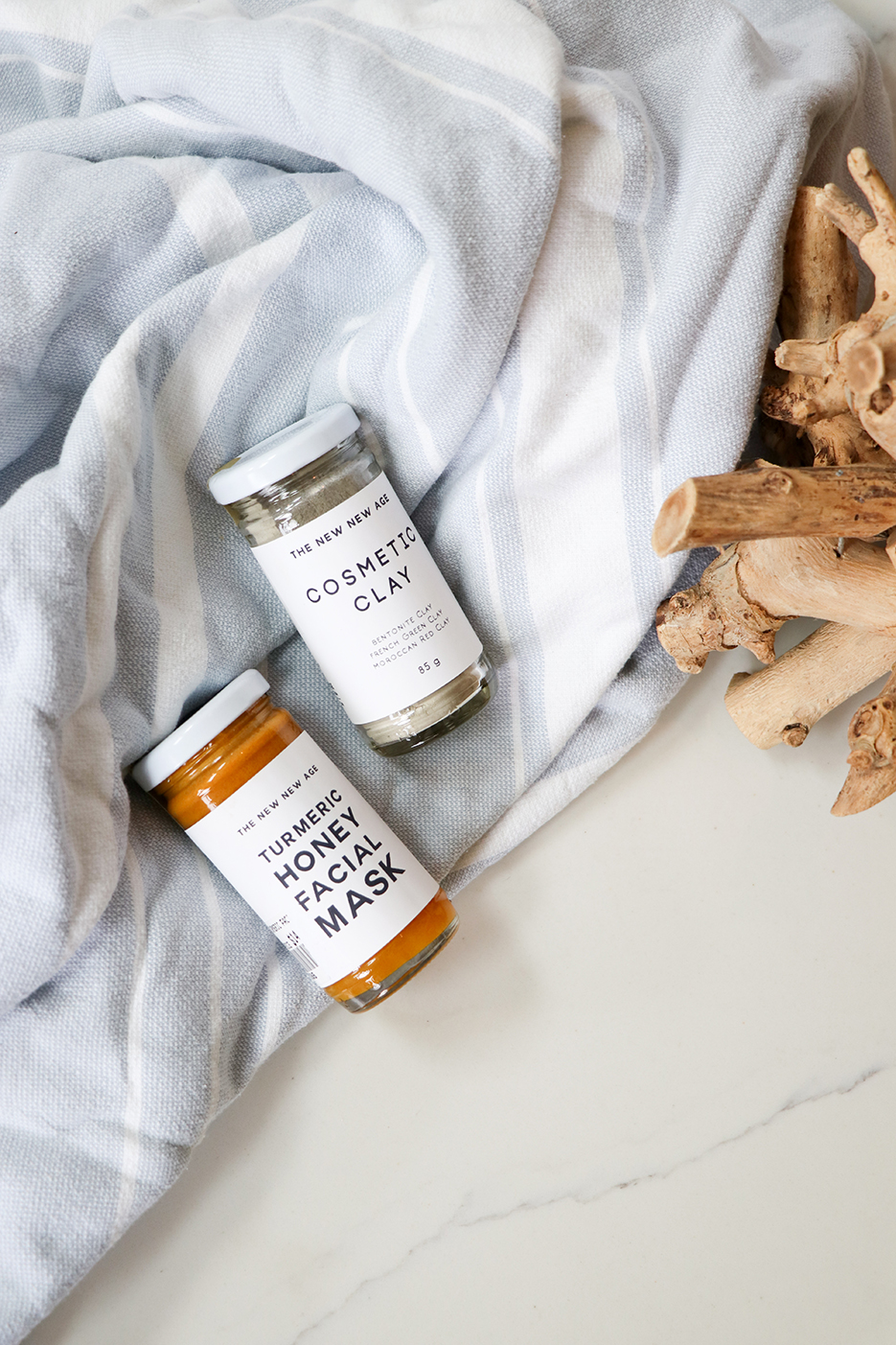 This combination of clays may help regenerate skin tissue by drawing out toxins. It may also help treat acne and reduce the appearance of scars. It's an excellent natural exfoliator, it will leave your skin feeling smooth and refreshed.
Organic Turmeric and Honey Facial Mask for glowing skin. This ancient combo of superfoods has been used cosmetically for thousands of years to moisturize, exfoliate and reduce redness and inflammation. It has been used to treat issues like eczema, rosacea, acne, dark spots and for softening wrinkles. It is also traditionally used by a bride on her wedding day to obtain a radiant glow.
The practice of combining powdered herbs in honey is called an electuary and we like to think of this special combo as an electuary for your face. We've tried it and LOVED it. 
---
Share this post