With the first long weekend of the summer season upon us we are excited to celebrate warmer days ahead and we have some SPRING inspiration for your long weekend hosting, spring sprucing and backyard living. 
Long weekends call for long brunches and we have JUST the thing to elevate your Caesars this weekend. The perfect caesar starts at Bradshaws! 
A caesar MUST have! NEW to Bradshaws this all natural craft caesar mix from Singers Available at Bradshaws in two flavours:
We have THE
1. The Mildly Spiced Caesar Mix, contains just enough 'heat' to make it enjoyable for those who would prefer a milder Caesar drink. It delivers a nice little kick, which is important to all Caesar lovers, and still maintains that delicious Caesar flavour!
2. a Vegan Caesar Mix! This Vegan Caesar Mix contains all-natural ingredients as well and is beautifully spiced! It has a delicious Caesar flavour, without the shellfish AND, it's sugar-free, thanks to the addition of Date Puree! We know you will love it!
Salt your rim with the best. Amola is a beautiful brand of gourmet sea salts and they have a bacon flavour infused Caesar rim salt that is next level delish! 
Garnishes are the most Fun about building your caesar. Add our favourite pickled Dilly Beans! 
A Bradshaws customer favourite – our  Fever-Tree mixes. We are fully stocked with some exciting new flavours for Spring cocktails and non-alcoholic cocktails like our Aromatic Tonic Water. By blending the gentle bitterness of South American angostura bark with aromatic botanicals, such as cardamom, pimento berry and ginger, we've created a delicious, unique tonic water that can be enjoyed with gin to make a Pink G&T or as a sophisticated soft drink on its own.
With so many gourmet mixes we love to refer to Fever-Tree's Pairing Wheel to know what to mix with your favourite alcohol – here is their guide to pairing with GIN. 
What to drink, if you aren't drinking? We have just the thing! Our very popular Seedlip. The world's first non-alcoholic distilled spirits. All natural, with no sugar added. Delish elevated non-alcoholic cocktails made easy!
Try our citrus GROVE flavour paired with our Fever-Tree soda water and garnish with a citrus rind. We served this combination at our Spring Open House and it tasted like SUMMER! 
All three Flavours, Grove, Spice, and Garden available in our bar section. 
Spring is here and we are feeling inspired once again to get our spiralizing on! Super simple SPA WATER inspiration – Spiralize cucumbers and submerse in a jug of water, place in the fridge and let the cucumber infuse the water – 15mins is often enough time. Then you have beautiful spa water on hand and it makes a gorgeous statement on any bar, dinner table, etc. We use our Westmark Spiromat Fruit & Vegetable Slicer.  Available online or in our Kitchen Department for $99.00. It features 3 interchangeable, heavy-duty, stainless steel slicing attachments that cut fruit and vegetables into spirals, spaghetti, or rings. Great for gluten-free and vegan recipes! 
Then, if you are like us and can turn anything into a cocktail, turn you spa water into a 'healthified' cocktail by adding your favourite gin, fresh squeeze of lime and garnish mint.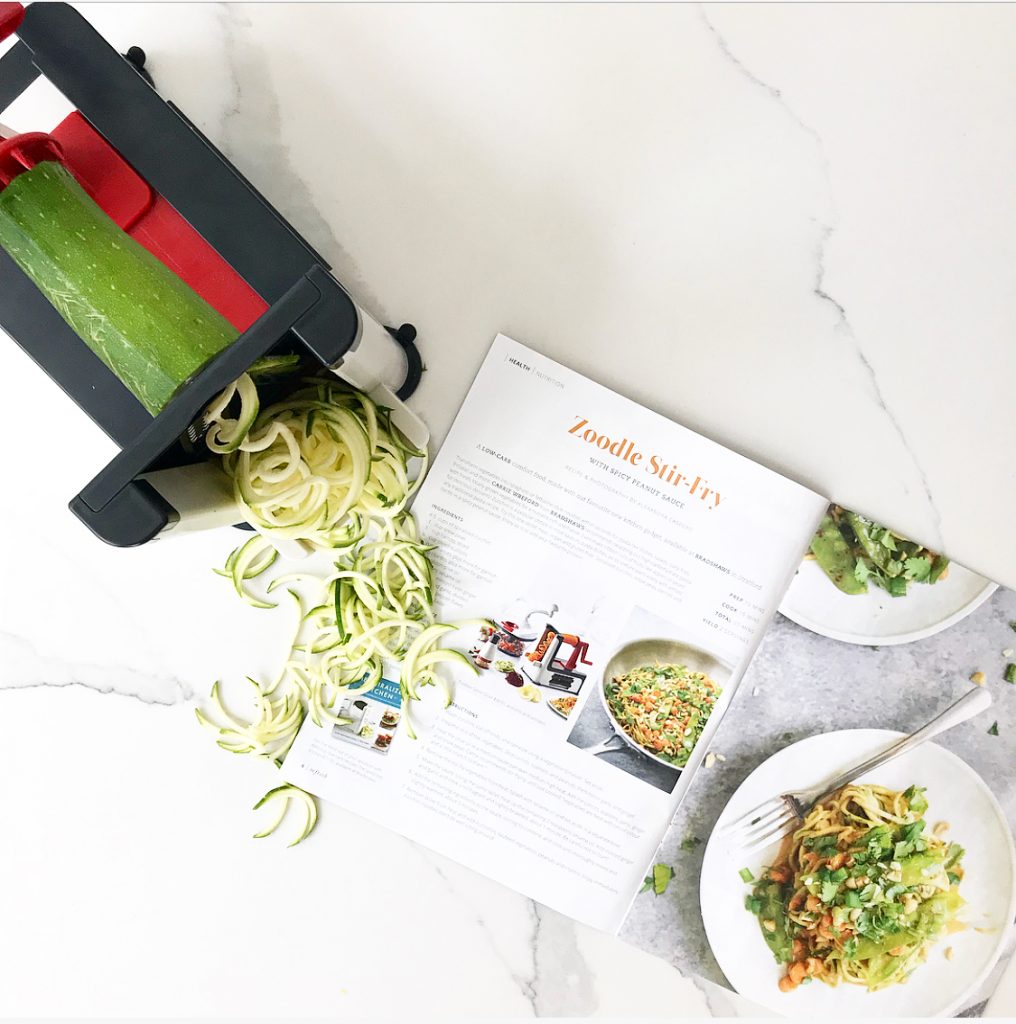 Keep your Spiralizer fired up and make this super simple, super delish dish. 
Thai Peanut Chicken Zucchini Noodles
1

 

clove

 

garlic

 

minced

2

 

tea

spoons

 

fresh ginger

 

minced

4

 

tablespoons

 peanut butter

1

 

lime

 

zested and juiced

2

 

tablespoons

 soy sauce

¼

 

teaspoon

 

red pepper flakes

2

 

tablespoons

 

canola oil

2

 

cups

 

chicken breast

 

cooked and shredded

3

 

zucchini

 

spiral sliced

2

 

large carrots

 

spiral sliced

1

 

red pepper

 

spiral sliced

1/3

 

cup

 

fresh cilantro

 

chopped

1/4

 

cup

 

green onions

 

diced

chopped unsalted roasted peanuts and lime wedges

 

(optional as a garnish)
Add the garlic, ginger, peanut butter, lime juice and zest, soy sauce and red pepper flakes to a small bowl and mix together.

To a large frying pan add your canola oil on high heat.

Add the zucchini, carrots and bell peppers to the pan and cook until just wilted, 3-4 minutes, stirring occasionally.

Add in the chicken, sauce, cilantro and green onions and toss together until all warmed through.

Garnish with peanuts and wedges of lime if desired.
Some of our Favourite things for SPRING!
Bradshaws was mentioned in a recent issue of the LCBOs Food & Drink Magazine! Looking to add some style to your function in the kitchen this Spring, our beautifully designed Smock Aprons are a 'Must-Have'. 
These Japanese inspired Apron designs are LOVED for their ease and simplistic appearance, while being extremely practical in the kitchen. Two roomy pockets and a stylish oversized fit make this Smock design exceptionally comfortable. Available in three beautifully FUN prints. A perfect wedding shower GIFT this wedding season!
SPRING Cleaning! We are feeling inspired to find simple solutions to keeping our homes clean with some of our favourite home cleaning products. If you've ever wondered what one of THE TOP selling products at Bradshaws is, here's a hint – it's in this photo! We've SOLD almost 20,000 of our EURO-SCRUBBY  to date!
Simple ways to stay organized and to SPARK JOY in everyday ordinary household items. We place our natural bristle brushes we use for cleaning on a beautiful dish by the sink. It's equal parts utility and special to look at. We always have a bottle of our favourite all natural UASHMAMA olive oil by our sink. Perfect for dry skin, especially on hands after washing the dishes. 
The Lampe Berger is a staple in our home all year long, but now is the time of year we switch up our scents to lighter, more spring like feel. Have you tried our Eucalyptus blend? The Lampe Berger was originally designed in by a pharmacist to kill airborne bacteria in hospitals in Paris over 100 years ago. Now gorgeously designed vessels still kill 68% of airborne bacteria, burn clean with no oily residue and gently fragrance your home. 
Our Uashmama Basic bags are made using traditional artisan methods from cultivated and sustainable paper.  They are soft but resilient, can be washed like fabric, ironed and flattened completely for storage purposes.  The bags are designed to be rolled so you can alter the height to suit the contents.  Beaufiful and functional, use in the home, office, kids room, outdoors, shopping, styling, catering or to ORGANIZE ANYTHING you like!
Backyard living with our customer favourite – Skeem Citronella Candles
Back by POPULAR demand – Skeem Citronella Candles in three all natural scents, Eucalyptus, Sal and Grapefruit. The Skeem Design Citronella Candles are blended with bright and energizing citrus notes.  Citronella is a proven, all-natural repellent made from the leaves and stems of the lemongrass plant.  It repels insects by masking the smells biting insects are attracted to.  The oils are blended with fine fragrances to smell as good as they look, and are hand poured with an exclusive soy base.  Each one has three wicks for the maximum scent throw to keep bugs at bay.
---
Share this post