Making your holidays festive, bright and DELISH with some of our favourite Holiday Recipes. 
Dona Chai Eggnog
6 egg yolks
2/3 cup of powdered sugar
1 cup of Dona Masala Chai
1 cup of whiskey
3 cups of half & half
6 egg whites
1 pinch of salt
In an electric mixer, whisk together egg yolks and 1/2 cup powdered sugar until creamy and dense. While whisking, add the whiskey. Refrigerate for an hour.
Whisk in the Dona Chai Concentrate, then the half and half. In a separate bowl, whisk egg whites and salt until fluffy, adding in the remaining confectioners' sugar as you mix. They should be whiny with soft peaks. Fold the egg white mixtures into the egg yolk mixture.
Ladle into glasses and sprinkle with grated nutmeg.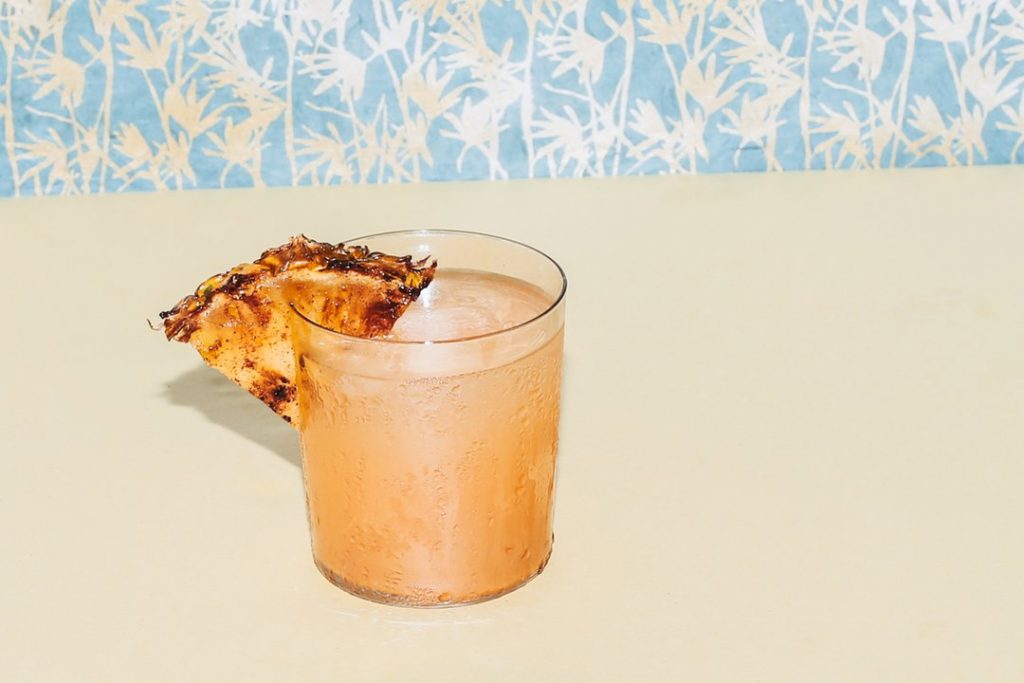 Turmeric Pineapple Margarita
Makes 1 drink
1 oz silver tequila 
2 oz pineapple juice
4 oz Dona Turmeric
A squeeze of lime juice
Charred pineapple slice to garnish
Optional: top with 3oz seltzer for a sparkling margarita
To make, combine lime juice, pineapple juice, Dona Turmeric, and tequila in a cocktail shaker. Pour into a glass over ice. Top with seltzer if using. Garnish with the pineapple slice and serve. 
No Knead Olive + Rosemary French Oven Bread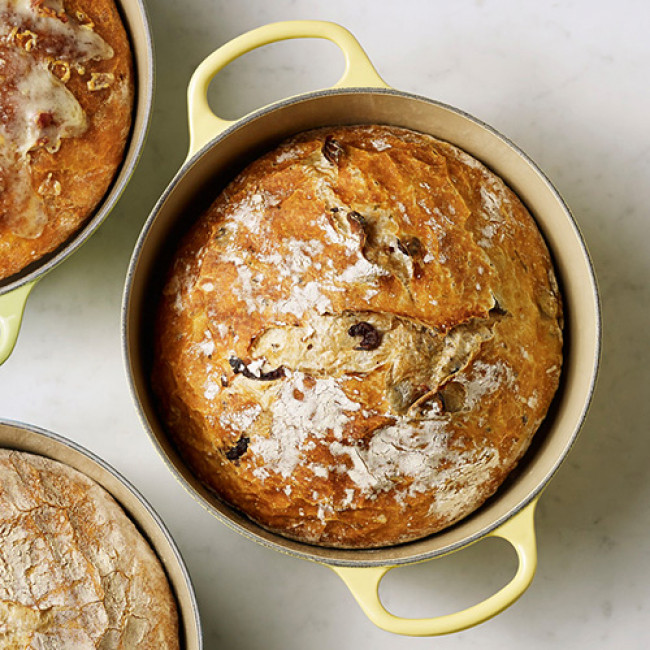 INGREDIENTS
3 cups all purpose flour
2 tsp salt
¼ tsp instant yeast
1 ½ cup warm water
¾ cup of Kalamata olives, thinly sliced
1 tbsp chopped rosemary
INSTRUCTIONS
In a large bowl combine flour, yeast, salt, Kalamata olives and rosemary. Add water, stir until blended; dough will be shaggy and sticky. Cover bowl with plastic wrap. Let dough rest over night at room temperature.
Lightly flour a work surface and place dough on it; sprinkle it with a little more flour and fold it over on itself once or twice. Cover loosely with plastic wrap and let rest about 15 minutes.
Using just enough flour to keep dough from sticking to work surface or to your fingers, gently and quickly shape dough into a ball. Generously coat a cotton towel with flour, put dough seam side down on towel and dust with more flour. Cover with another cotton towel and let rise for about 2 hours. When it is ready, dough will be more than double in size and will not readily spring back when poked with a finger.
Preheat oven to 450°F Place the French oven in the oven as it preheats. Carefully remove pot from oven. Slide your hand under towel and turn dough over into pot, seam side up. Shake pan once or twice if dough is unevenly distributed; it will straighten out as it bakes. Cover with lid and bake 30 minutes, then remove lid and bake another 15 to 30 minutes, until loaf is beautifully browned. Cool on a rack.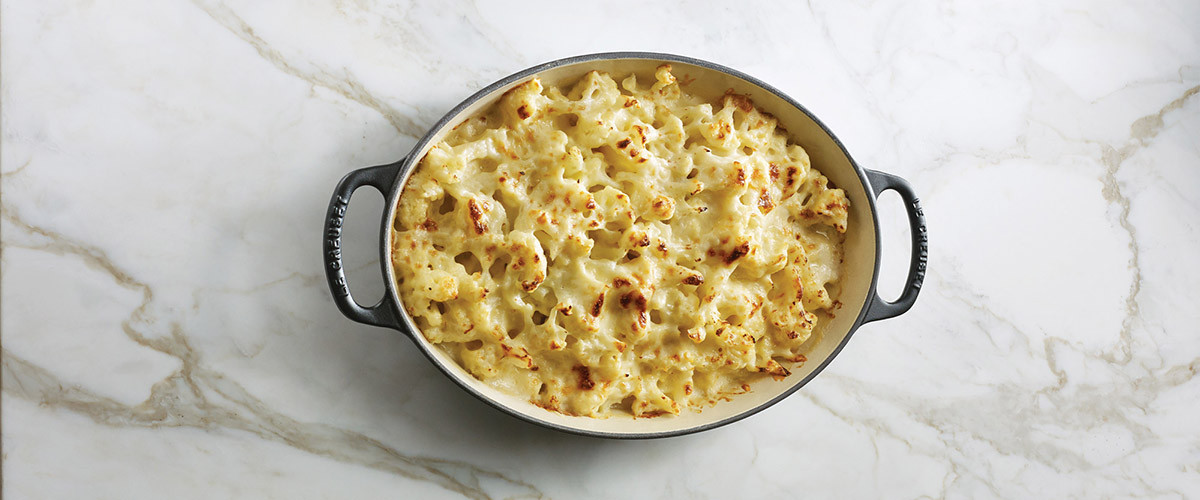 INGREDIENTS
1x 3 lb (1.4 kg) head cauliflower, cut into large florets
Salt to taste
4 Tbsp (60ml) unsalted butter, divided
3 Tbsp (45ml) all-purpose flour
2 cups (500ml) hot milk
Salt to taste
Freshly ground black pepper to taste
¼ tsp (1ml) nutmeg
¾ cup (180ml) aged cheddar, grated
½ cup (125ml) asiago, grated
¼ cup (60ml) fresh bread crumbs
INSTRUCTIONS
Preheat the oven to 375°F (190°C).
Cook the cauliflower florets in a large pot of boiling salted water for 6 – 8 minutes, until tender but still firm. Drain.
Melt 2 Tbsp (30ml) of butter in a medium saucepan over low heat. Add the flour, stirring constantly with a wooden spoon for 2- 4 minutes. Pour the hot milk into the butter-flour mixture and stir until it comes to a boil. Boil, whisking constantly, for 1 minute, or until thickened. Off the heat, add salt, pepper and nutmeg, ½ cup (125ml) of the cheddar, and the asiago.
Pour 1/3 of the sauce on the bottom of the oval baker. Place the drained cauliflower on top and then spread the rest of the sauce evenly on top.
Combine the breadcrumbs with the remaining 1/4 cup (60ml) of cheddar and sprinkle on top.
Dot the remaining butter over the gratin. Sprinkle with salt and pepper. Bake for 30-35 minutes, until the top is browned. Serve hot or at room temperature.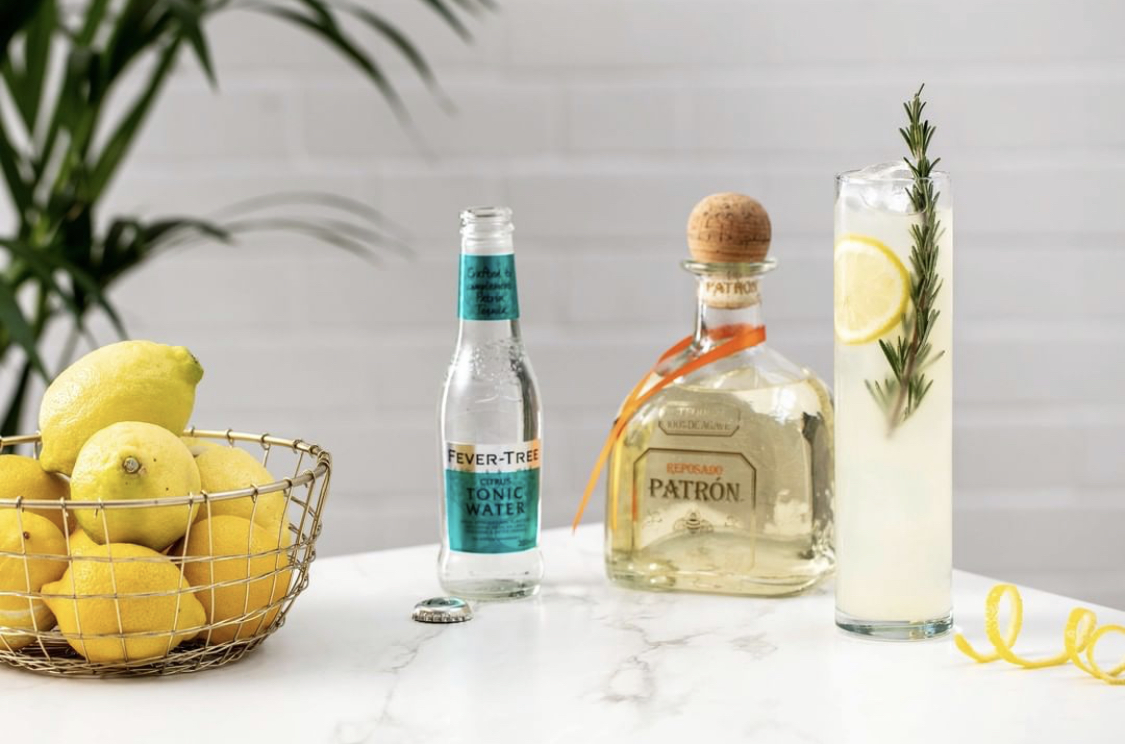 Elevated cocktails require elevated mix. Our premium line of Fever Tree Mixers will take your cocktailing game up a notch.  see our variety of flavours like Ginger Beer, Spiced Orange Ginger Ale, Aromatic Tonic Water, and more non our bar section. 
---
Share this post