Have you been clued into the fact that there is something called the Stratford Chocolate Trail? This is a fun foodie way to explore Stratford by enjoying yourself on a self-guided tour in Stratford's favourite spots to enjoy all things CHOCOLATE. 
Bradshaws has been a participating business on the Stratford Chocolate Trail for YEARS, but I realized I had not yet experienced this as a customer, so it was high time to take the challenge on. I enlisted the help of my trusty chocolate-loving child Gigi (aged 7) to do some "research and development" with me to see which spots we would choose to collect our chocolate treats from, and to see if this would be a good afternoon activity for kids. (Spoiler alert: IT WAS!)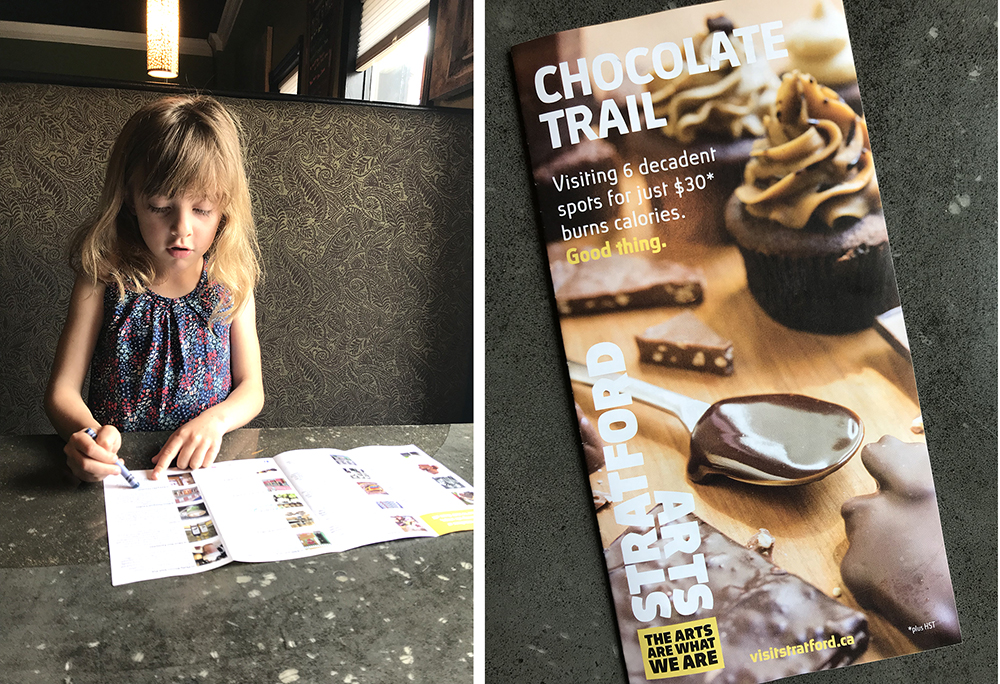 First stop was Chocolate Barrs Candies – a local shop owned and operated by husband and wife team Derek & Jacqueline Barr who are celebrating 16 years in the business! (Side note: You KNOW we love businesses run by husband/wife teams!) It was pretty easy to walk into this store and want literally one of everything! For our chocolate trail ticket, we were able to choose THREE decadent chocolate truffles to take home. We chose Chocolate Praline, (shaped like a sweet little hedgehog) chili pepper (just the right hint of spice) and honey black pepper (with a beautiful hand painted top). We also ended up buying a beautifully wrapped gift box of 4 chocolates for Gigi's bestie topped with the sweetest little cast iron swan figurine.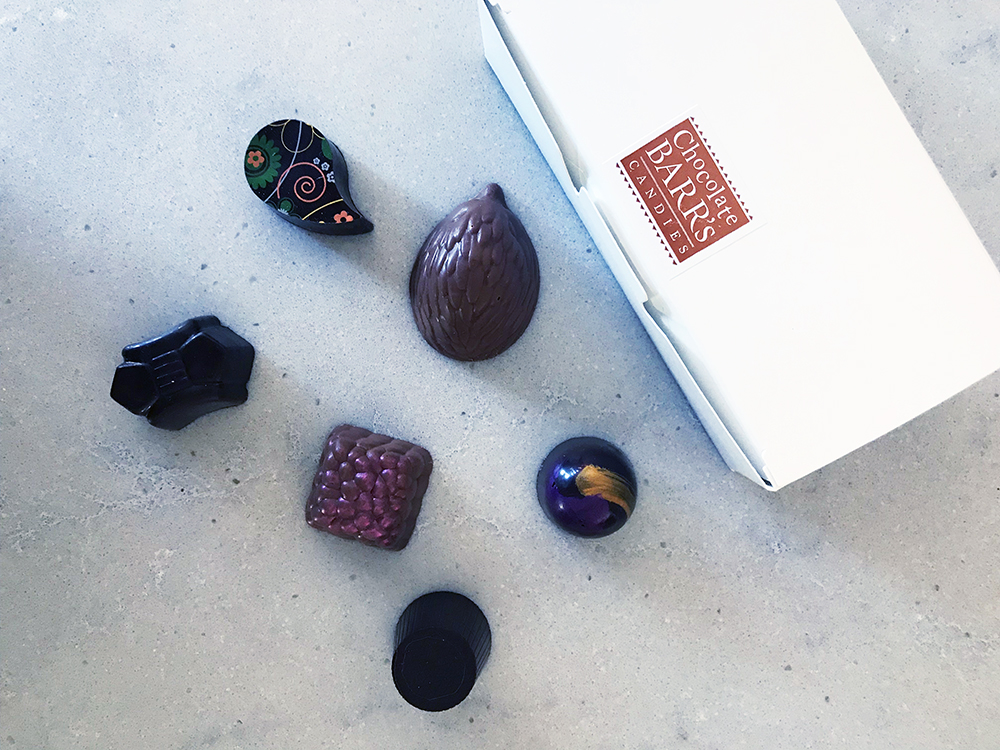 Next stop on the Stratford Chocolate Trail was our friends and neighbours Rheo Thompson Candies – now celebrating 50 years of hand-making candies in Stratford. ALSO a husband and wife team, Kritstene and Marc Steed run a stunning European style shop that literally MUST be on your list of places to visit in Stratford… If you miss this stop, you haven't experienced the city correctly! Since their shop is on Albert Street (the street directly behind Bradshaws) you can imagine it was a daily stop for me when I was pregnant with both kids. The order always included snowballs and maple creams… But on the chocolate trail, we got to choose 4 chocolates – a signature milk chocolate mint smoothie, a hazelnut praline (apparently RTC's owner Kristene's favourite chocolate) a vanilla cream and a snowball for old times sake. Gigi kindly and generously shared these with her brother Ezra.
Gigi's next pick was a visit to Rocky Mountain Chocolate Factory. I self-admittedly had not been in this store very often, but I did discover a few favourite things while in there, mainly, chocolate covered slices of cheesecake on a stick, lots of fudge and an array of fully decorated candy apples. Their offer for our Chocolate Trail ticket was a comedy/tragedy chocolate sucker which was quite large!
A perfect vehicle for chocolate… CUPCAKES, so off we headed to Kandy Cakes and we got to choose either 4 minis (or two regular sized cupcakes) from Kandy's delicious assortment. The list below says it all! For those "in the know" in Stratford, Kandy is the QUEEN of amazing custom cakes… Check out this cake that was heading out the door when we were there!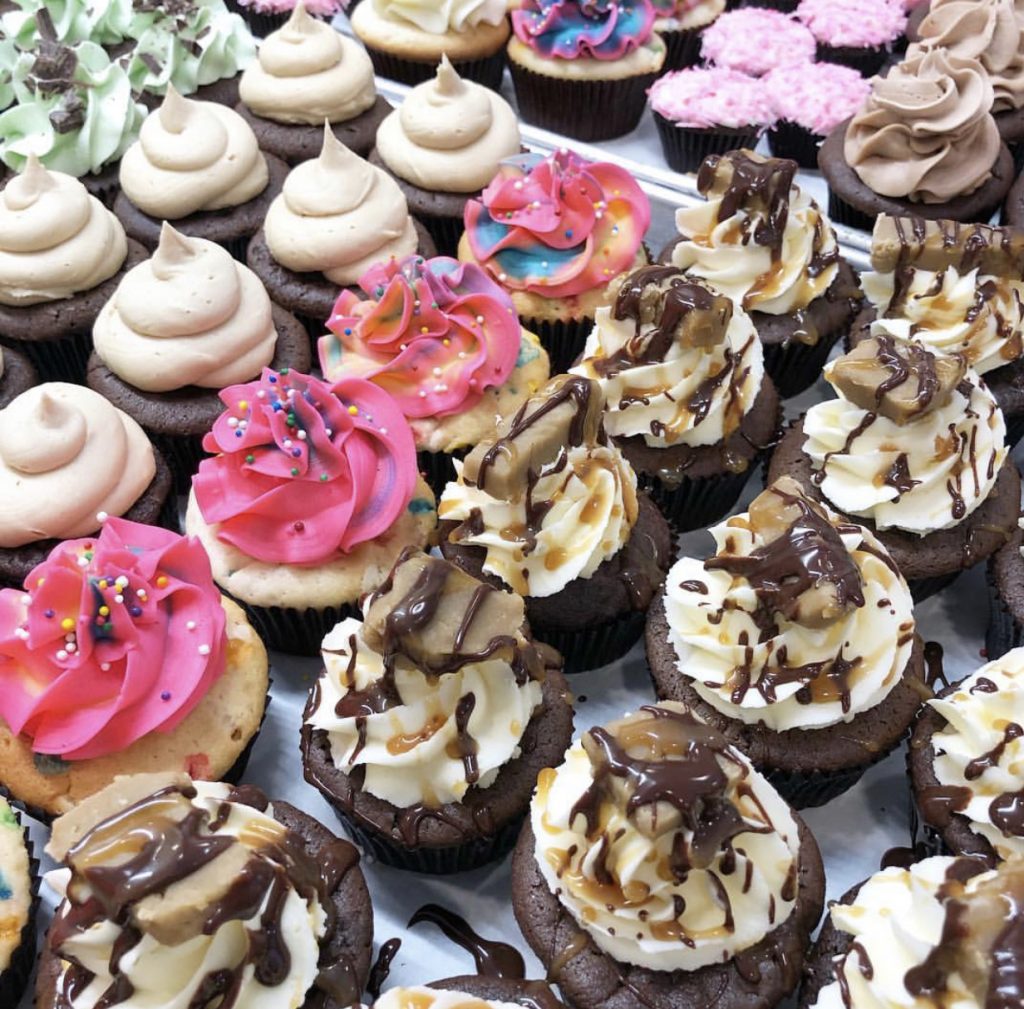 We are already on a first-name basis with Jenn at Jenn & Larry's Ice Cream Shop, but again, we had never been here as part of the Stratford Chocolate Trail and were happy to receive a little hot fudge sundae with our ticket.  We love this retro inspired family-run business and visit regularly! We grab our ice cream cones, dairy free gelato, milkshakes and sundaes and take them down to the Avon river to watch the swans meander by. (Bonus: They also make mini vanilla cones for pooches!)
Last on our list was a bit of an unexpected pick made by Gigi, but I decided to roll with it… She wanted to go to The Boar's Head Pub at The Queen's Inn. A little history lesson here: The Queen's Inn (formerly Arms) has been around for over 150 years providing both a place to stay for travellers as well as two restaurants, The Henry and The Boar's Head Pub. Gigi was intrigued by the warm chocolate brownie served with ice cream and whipped cream but less intrigued by the actual boar's head hanging on the wall. I was intrigued by the pint of Guinness I treated myself with at the end of our busy day!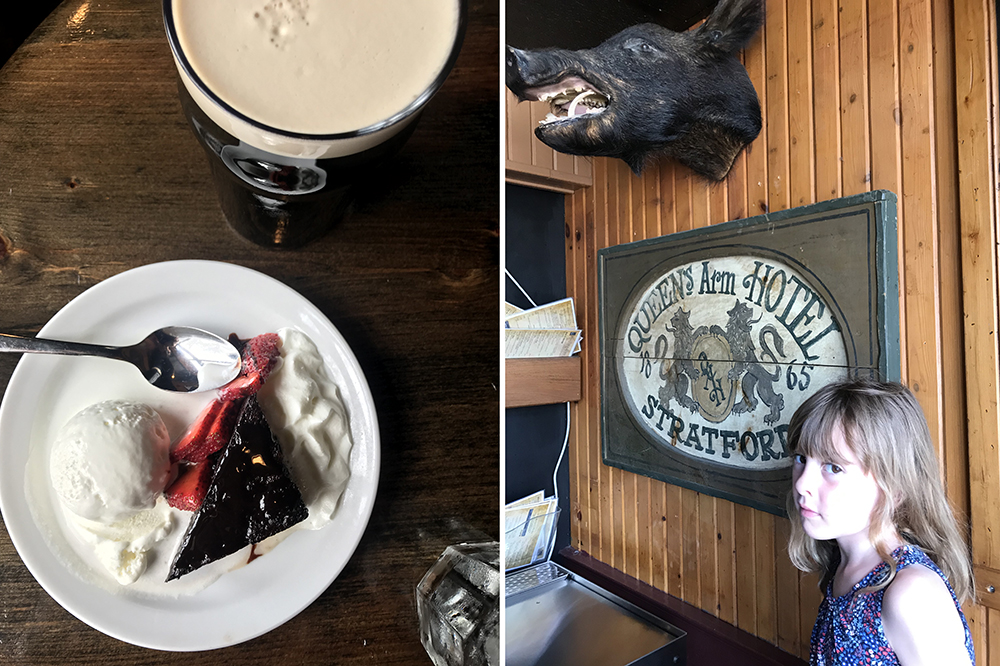 Thank  you for coming along with us on our Stratford Chocolate Trail adventure! We had a great day and it was really fun playing tourist in our own city. We got to see our city and businesses in a new light thanks to all the participants on the  trail. Remember: Your tickets are good for a full week so you don't have to rush your experience… Purchase your Stratford Chocolate Trail tickets online or at the Stratford Tourism visitor office.
Don't forget to follow @visitstratfordon on Instagram for daily updates and make sure that if you post your Chocolate Trail pics, tag @visitstratfordon and hashtag #chocolatetrail so they can share your experience with others!
PRO TIP: If going on the trail in the summer months, make sure to bring along an insulated bag and ice pack to keep your chocolates from melting! Not to worry… if you forget, you can purchase an insulated bag and pre-frozen ice pack  from either  Chocolate Barr's or Rheo Thompson Candies!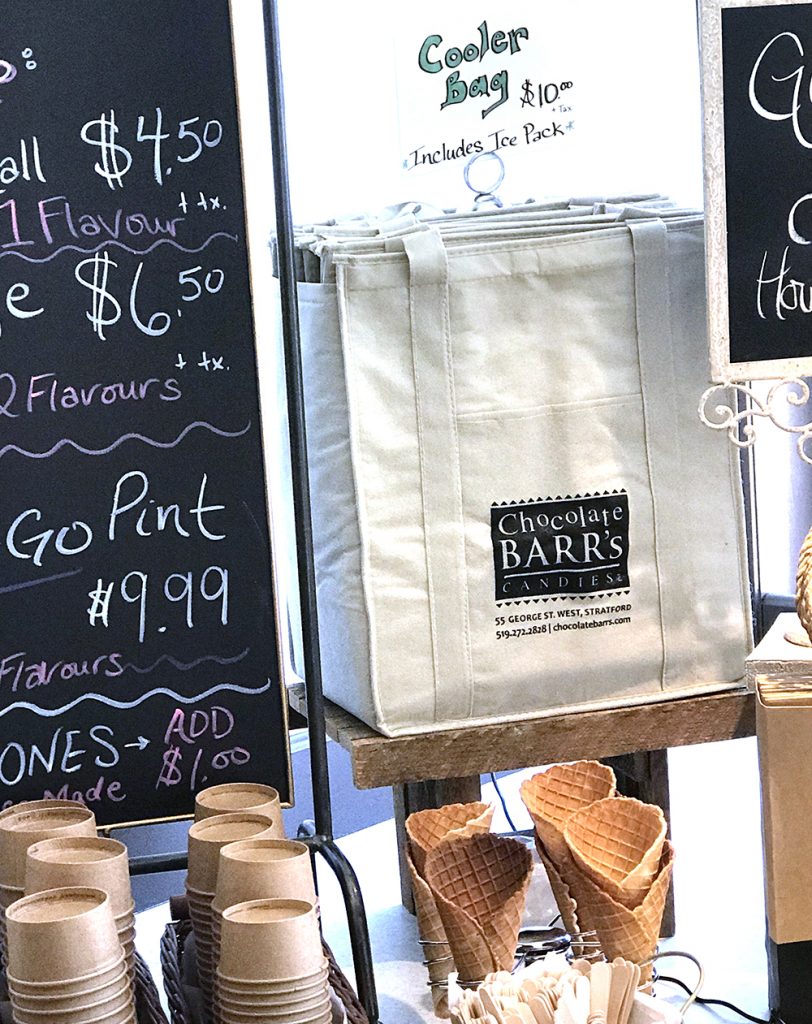 Forgot to mention that both of our stores – Bradshaws and Small-Mart General Mercantile are participants on the Stratford Chocolate trail (#5 and #21 in the map above). Stop by for a visit if you can! Happy trails….. Carrie + Gigi
---
Share this post