CELEBRATING our great selection of Canadian-made craft condiments and gourmet items at Bradshaws!
At Bradshaws we take great pride in sourcing as many quality Canadian brands and products as we can to bring to our customers – and here are a few that we just can't seem to get enough of!
Carrie's BBQ-ing must haves! 
The award winning ultimate Garlic Box Garlic Steak Splash will deliver the BEST "steak-house" style steak at home.  A great enhancer for ramping up  flavour in marinades, soups, salad dressings and even Caesar cocktails. Made in Hensall, ON.
Handmade by local woodworker Trevor Ewert of Once Upon a Tree –  all natural bristle-free walnut wood BBQ scraping paddle. The more you use it on a hot grill, it will get natural occurring grooves to help keep your BBQ clean, without the use of nasty metal bristles.!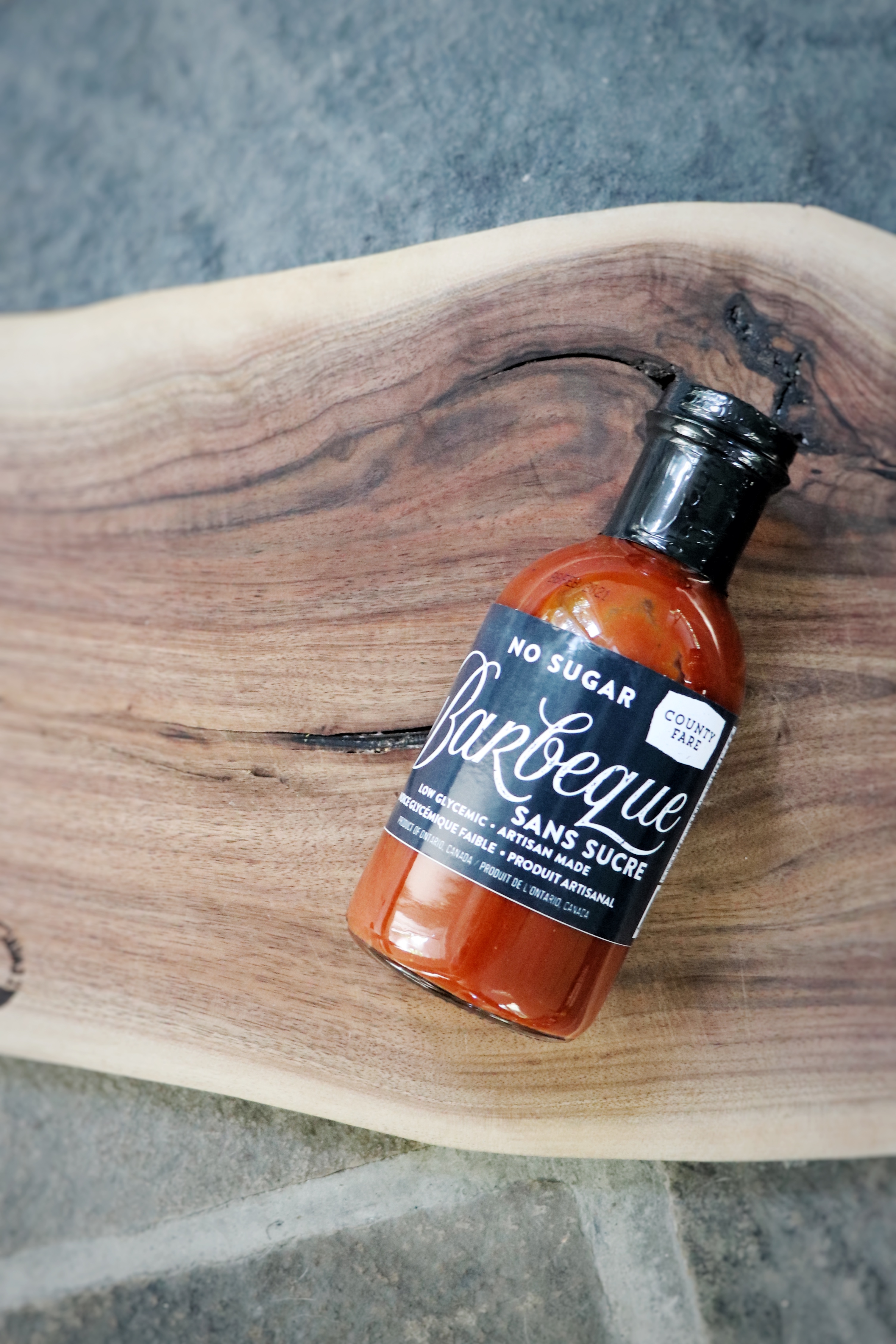 From Prince Edward County – NEW to Bradshaws our County Fare NO SUGAR Barbecue Sauce (we also have their NO sugar Ketchup too!) County Fare hand crafts small batches of specialty food products using as much locally grown product as possible when available.  They do not use artificial preservatives, sweeteners or food colouring and the majority of their products are also gluten and GMO free.  The County Fare motto:  "we deliver real flavour, naturally!" AND they have JUST been featured in the Summer Issue of the LCBO's Food & Drink magazine! 
From Salt Spring Island, BC comes – Salt Spring Kitchen, small batch artisan preserves and jams that will instantly elevate your cheese platter, charcuterie board and breakfast scones. Carrie recently got hooked on their Roasted Habanero Hot Sauce that she uses on tacos, burgers and eggs. Available in Bradshaws gourmet kitchen department. 
A customer favourite is our line of one of a kind wood serving boards, perfect for your weekend cheese platters, charcuterie and more! Locally made by Once upon a Tree. These beautiful charcuterie boards are available in both cherry or walnut woods and make a fantastic gift for weddings, birthdays and anniversaries. People love their natural beauty and usefulness!
Long weekend essentials! We love our NEW vegan gourmet Caesar Mix from independent Canadian brand Singers.  
Carrie's go-to simple salad dressing is our Apple Cider & Garlic Vinaigrette from The Garlic Box. 
The Cooking Ladies have come out with their 10th cookbook and it has just hit the shelves at Bradshaws. It's FULL of amazing summer grilling inspiration! These ladies know how to marinate, roast, sear and smoke just about anything!
** All available in our Kitchen Department**
Who else will be having pancakes this weekend, we have a collection of different independent Maple Syrup brands, like this one from Stone Maple Trading. Purveyors of the finest quality 100% Pure, Certified Organic Canadian Maple Syrup, blended in small batches.
Perfect hostess gift if you are visiting a cottage this weekend! Our FAVOURITE artisan granola. We LOVE every flavour of our Bayfield Provisions Granola. Beautifully prepared by a small business brand out of Bayfield, ON. A Bradshaws favourite and MUST have for summer long weekends! Sprinkle it over good greek yogurt, and top with fresh fruit and a drizzle of honey or maple syrup, OR just eat it out of the bag.
Bitters from Niagara based Dillons Distillery is what is missing in your craft cocktails. Best selling Peach Bitters is made using local Niagara peaches and basil from the Distillery garden. A beautiful flavour to enhance your summer cocktails. We are happy to carry the entire rage of bitters from both Dillon's, Kinsip and Top Shelf – all made in Canada! 
Long weekend are for Ceasars! NEW to Bradshaws our artisan Ceasar mix from Canadian company Singers. A mix of perfectly blended seasonings and spices brings out a spicy and savoury gourmet flavour, additive FREE, Gluten FREE and available in VEGAN!
Bradshaws is mentioned in the Summer Issue of the LCBO's Food & Drink magazine with our line of sustainable reusable cotton bowl covers! 
Cover your food the sustainable way and say good-bye to plastic wrap. These reusable, washable, cotton Bowl Covers a kitchen essential. Perfect to taking that freshly baked pie to the the backyard BBQ. 
Another Canadian company we LOVE and use on a daily basis is Abeego. Abeego picks up where the peel leaves off. All natural beeswax food wrap protects & breathes like nature's peel & rind and food is preserved longer than you've ever imagined. Say goodbye to plastic wrap and Hello to it's much better alternative! Wrap your cheese and fresh veg in all natural beeswax wraps!
---
Share this post