Meet Natalie Crittenden – custom upholsterer and leather craftsman with her independent business Haversack. Natalie has designed and created an exciting product for anyone who loves to cook with quality knives that is now available at Bradshaws – Knife Rolls.
Individual expression and a compulsion to create drove Natalie Crittenden to study the art of wrapping textiles over unusual shapes. From costumes to car seats, Natalie used her skills to travel and work across Canada, Australia and El Salvador.
Her love of leather stems from the belief that you should "Buy less, and choose well". Leather ages elegantly and gains a beautiful patina with time.
Protecting your knives is crucial to maintaining their quality and longevity. Now protecting your knives has never been easier or more gorgeous, with this line of Haversack Canvas and Leather Knife Rolls – now available in store and online.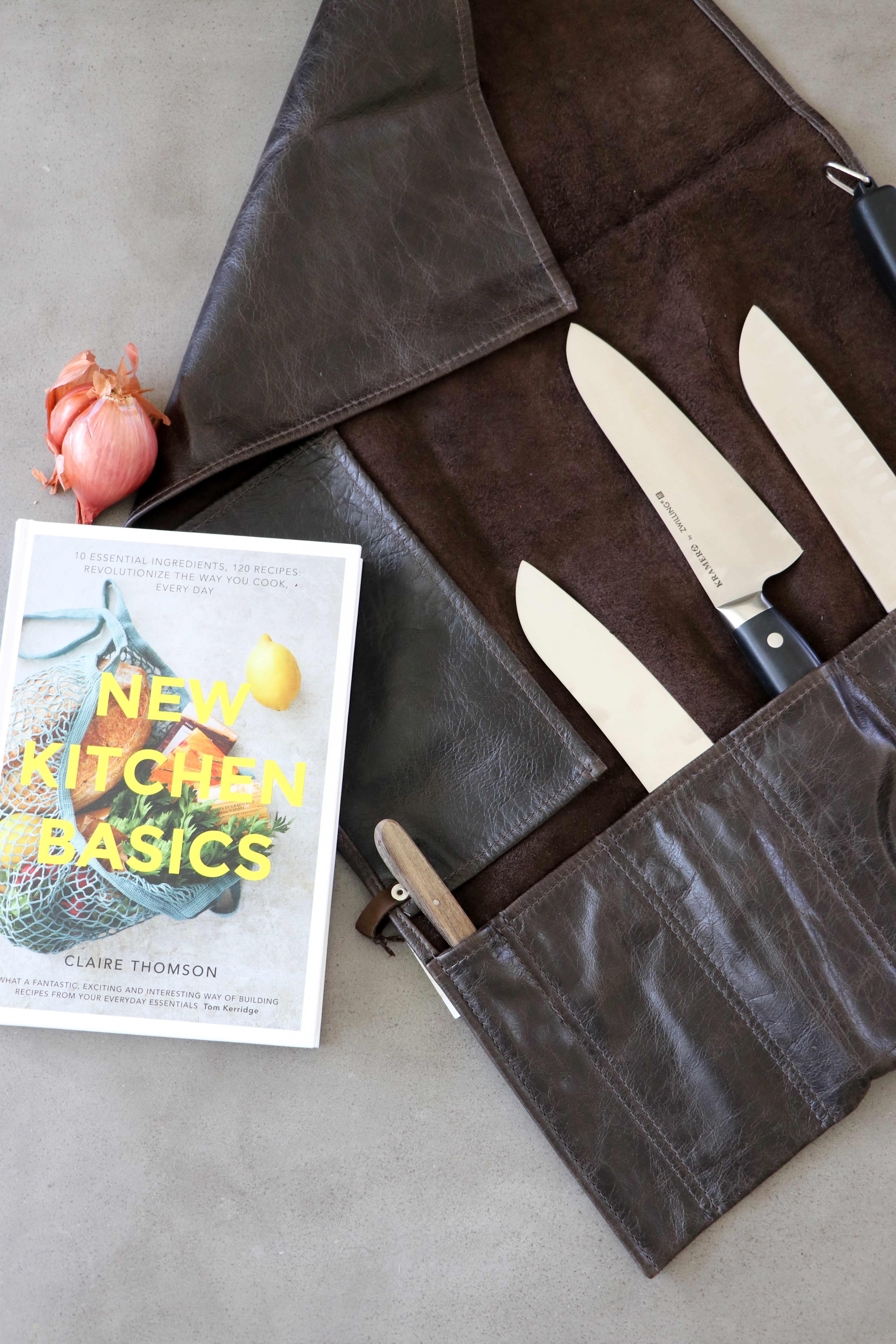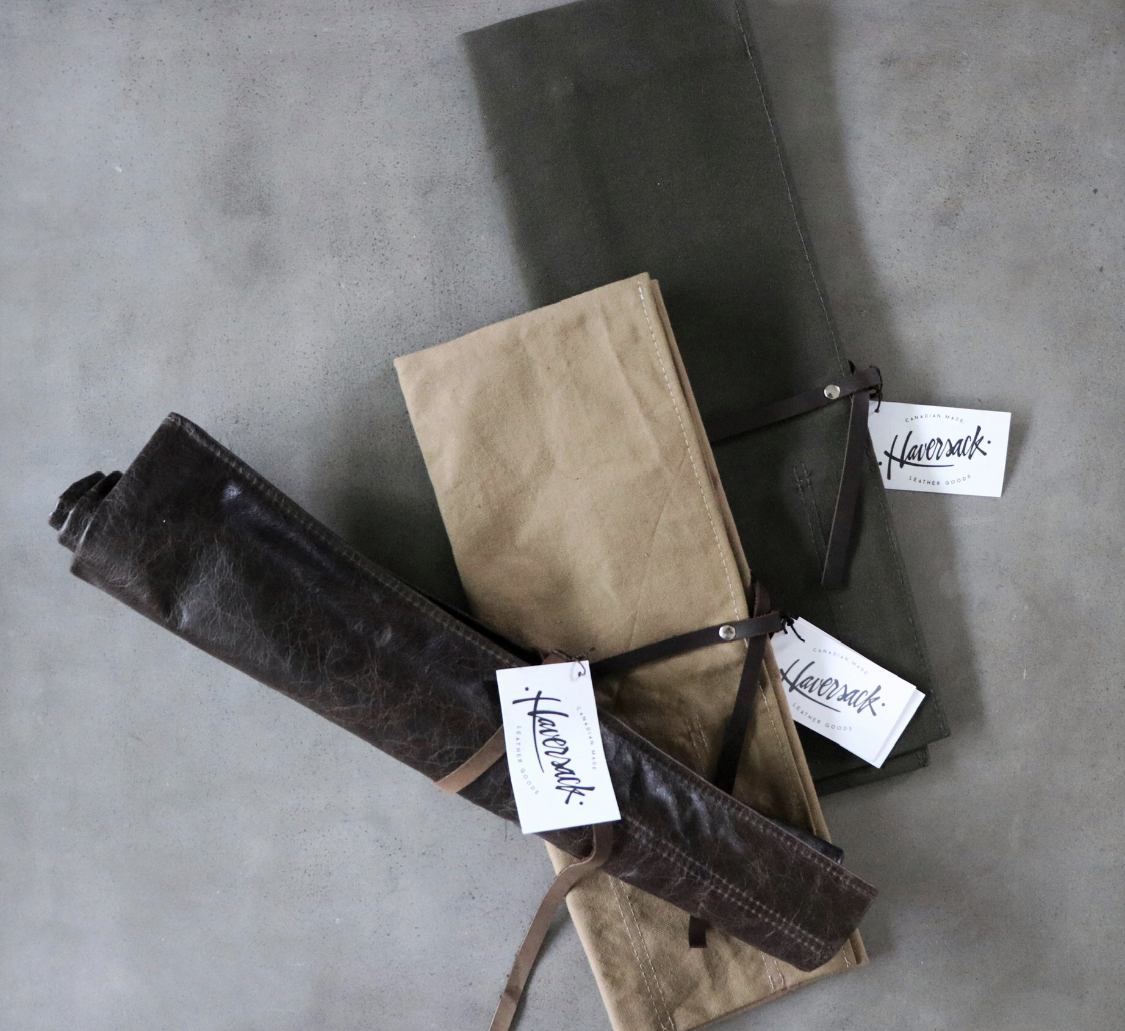 Natalie designed her knife rolls with the insight from her husband who is a Chef – together they own the newly opened Harris Electric Eatery in St. Marys, ON. 
What was your inspiration behind the chef accessories?
Just as I was getting Haversack off the ground I was approached by my friend Suzy who worked at a store called KNIFE in Toronto. They were looking to carry some new products that were made locally to compliment the Japanese chef knives they were selling. It was a great opportunity to develop something that would be attractive, but also tough enough to survive life in the kitchen. I was dating a chef (now my husband) who was super helpful for testing and offering constructive criticism on the products.
When taking on a new project it's important for me to consider the life of the piece. Aside from being beautiful, it needs to be durable and timeless. Much like that perfect pair of jeans- I believe that leather appreciates with age. I don't believe in following trends, and I try to only produce things that will have true lasting value.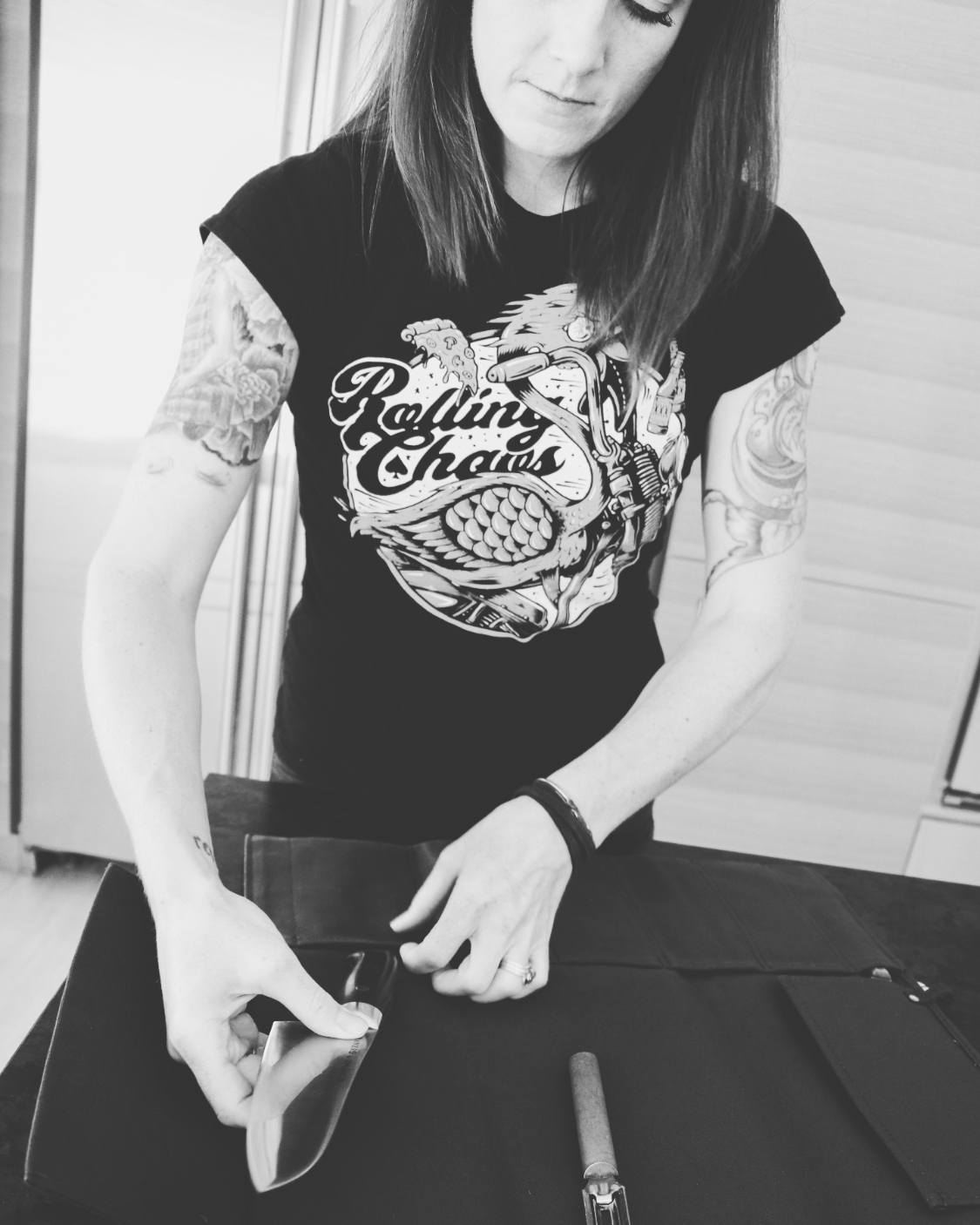 Popular among Chef's for easy transport from home to kitchen or home to the classroom, the knifes are simply slipped into their designated slot, smaller tools can be zipped into the closed pocket and the canvas or leather is flipped over for protection and is easily rolled up and tied. Perfect for carrying your everyday kit, this canvas knife roll is great to roll up tight and tuck into a backpack or messenger bag. A leather tie wraps around and knots on itself to keep your tools safe for transport.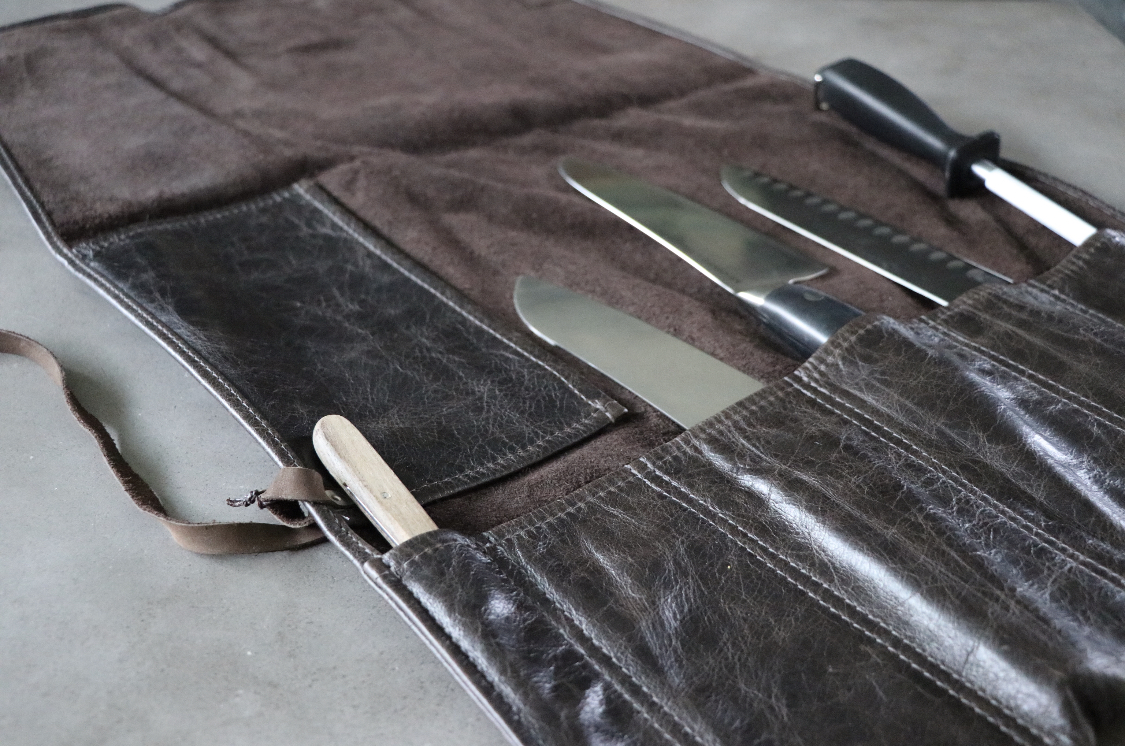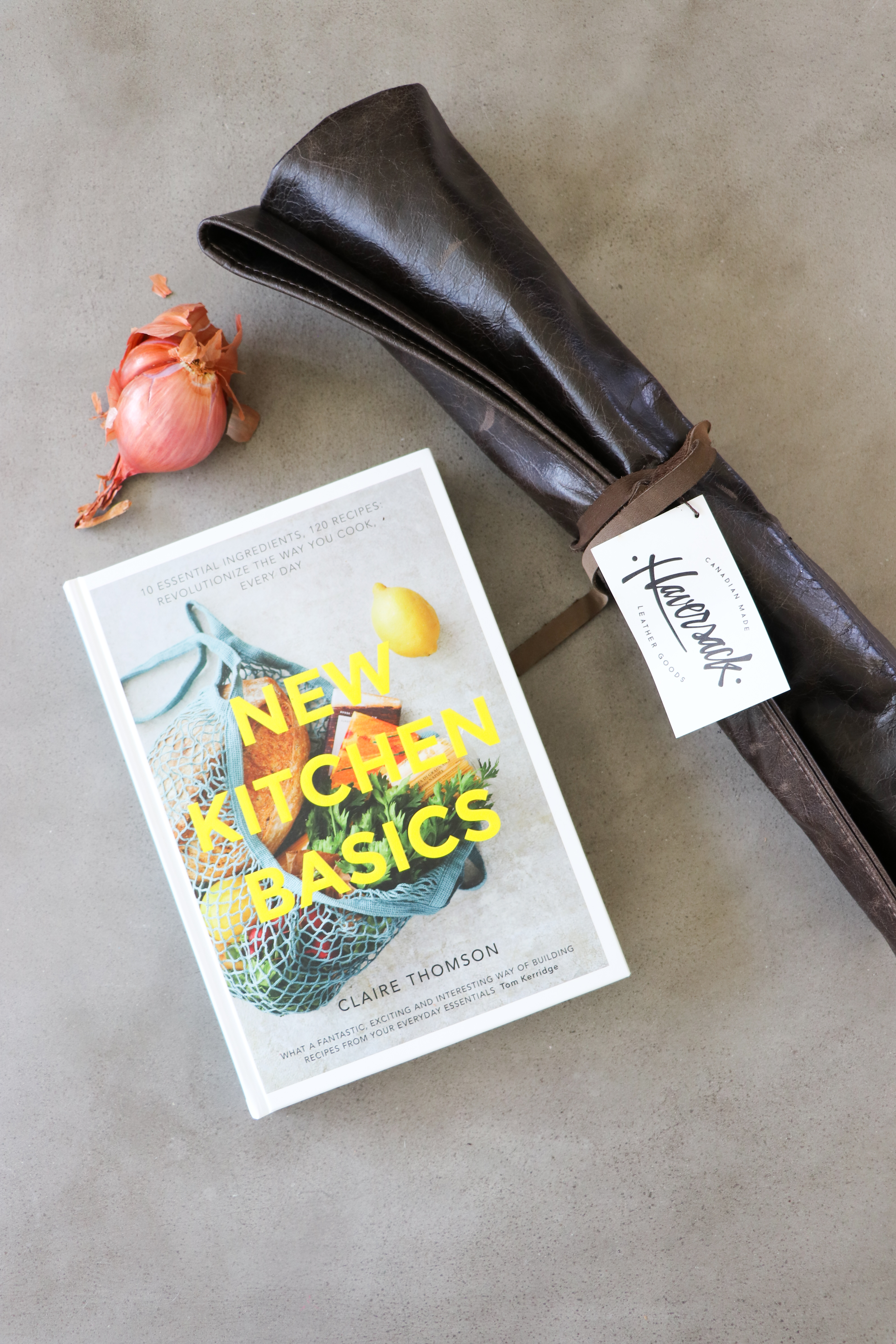 How did you get started, what was your inspiration in doing what you do?
It was a bit of a journey. I studied fashion arts in school, then got into making costumes for theatre. That was a bit of a circuit, I took contracts all over Canada. I applied for a working holiday in Australia hoping to travel the country doing the same, but I got there at the height of the recession and couldn't break in. I landed a job reupholstering cars… then decided I'd rather live on the beach, so I found a job doing boat upholstery, and I loved it. When I couldn't stay in Australia any longer I came back to Canada and got back into theatre, but ultimately realized that upholstery and leather work was the direction I wanted to follow.
I took a business course, and saw an opportunity in a couple of niche markets. The growth in my business has really been a case of being in the right place at the right time, and following through on promises.
I also love diversity- Last year I upholstered two Airstream trailers, recovered numerous motorcycle seats, produced wholesale chef accessories and my own branded leather goods for online sales.
Natalie's work was recently featured in dwell Magazine!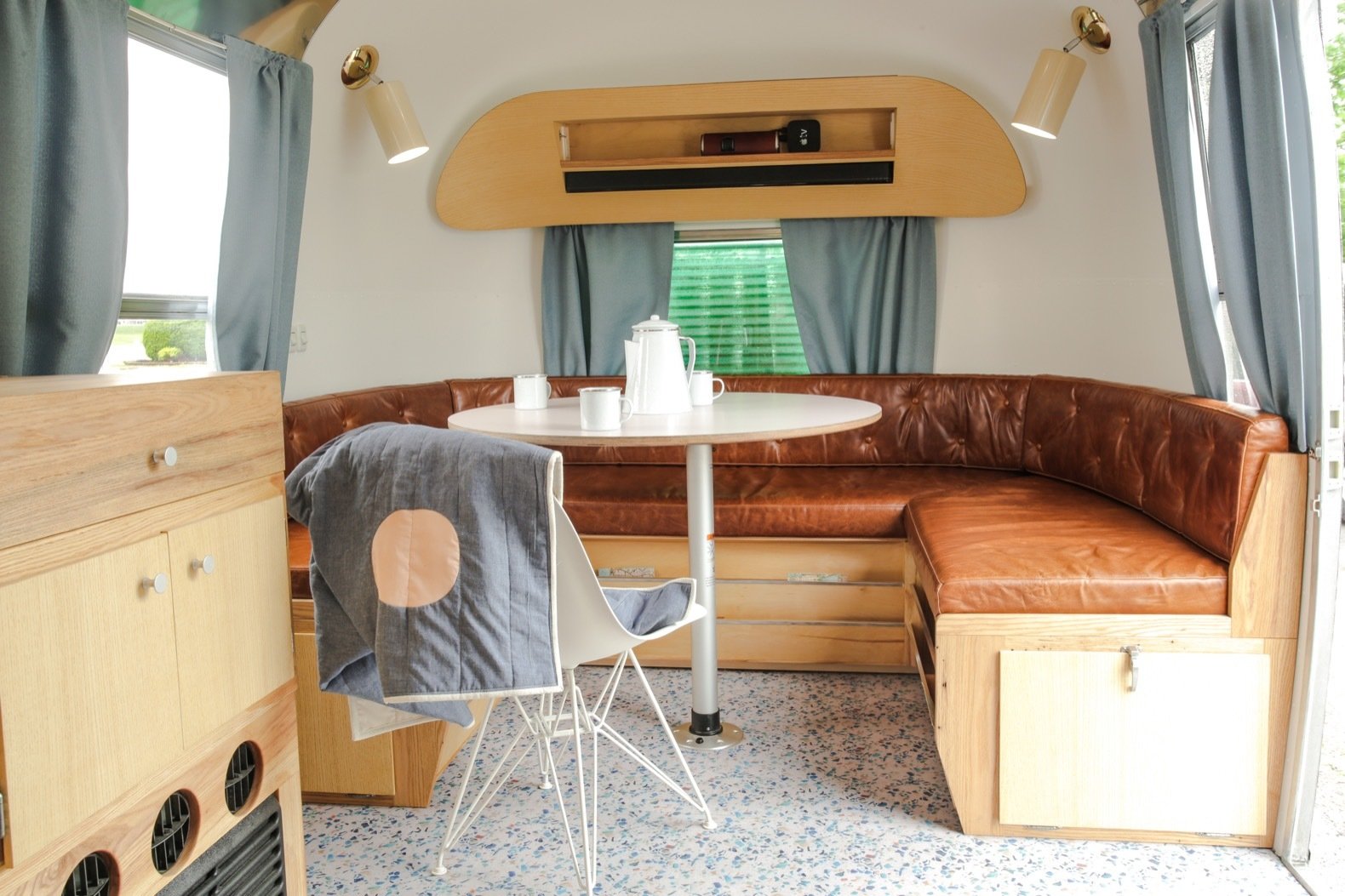 Natalie designed and installed this custom worn leather bench seat for a 1965 Airstream project that was featured in dwell magazine.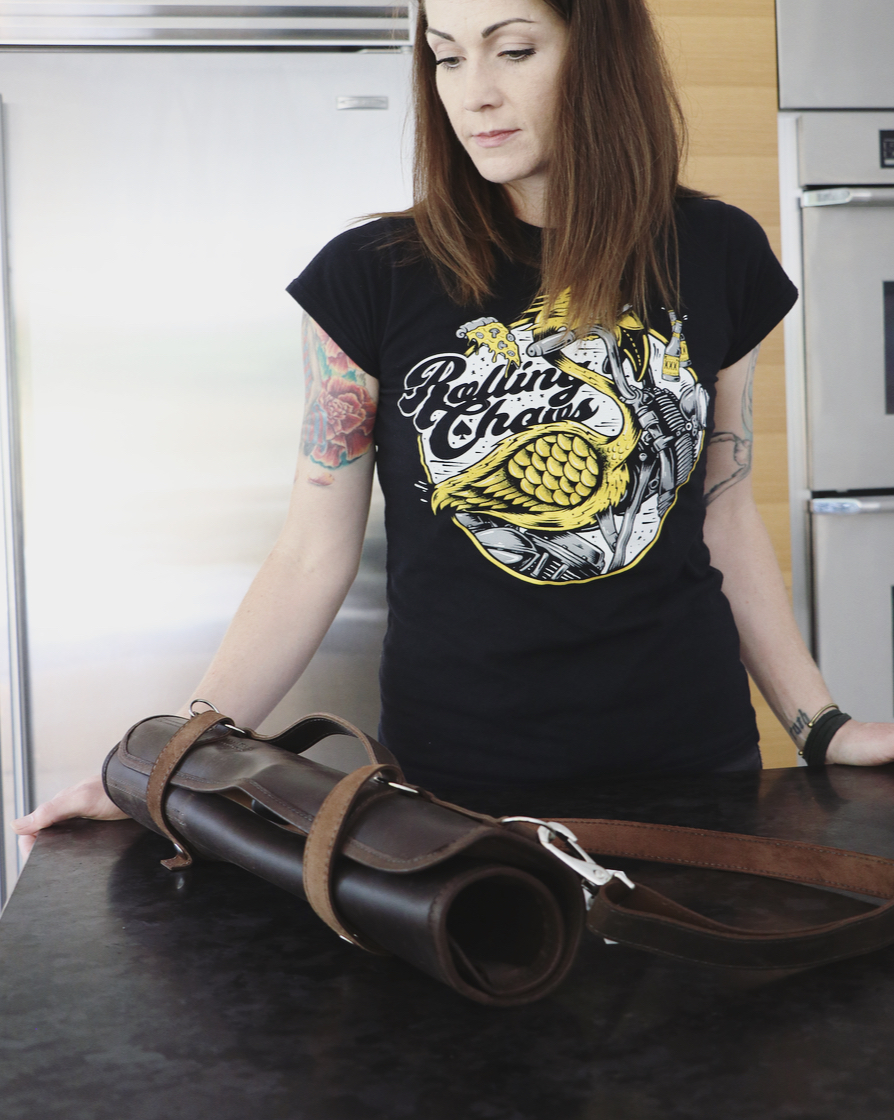 Natalie's passion for her craft is obvious in her attention to detail and genius design. In addition to her canvas and leather knife rolls, we also carry her more deluxe leather version. Complete with crossbody carrying strap. 
---
Share this post