Super simple, super DELISH festive holiday entertaining recipes that are sure to be a crowd pleaser! 
It doesn't get EASIER than this! Elevate your Baked Brie – with our Perfect Pastry puff pastry and Salt Spring Kitchen preserves – both available IN STORE.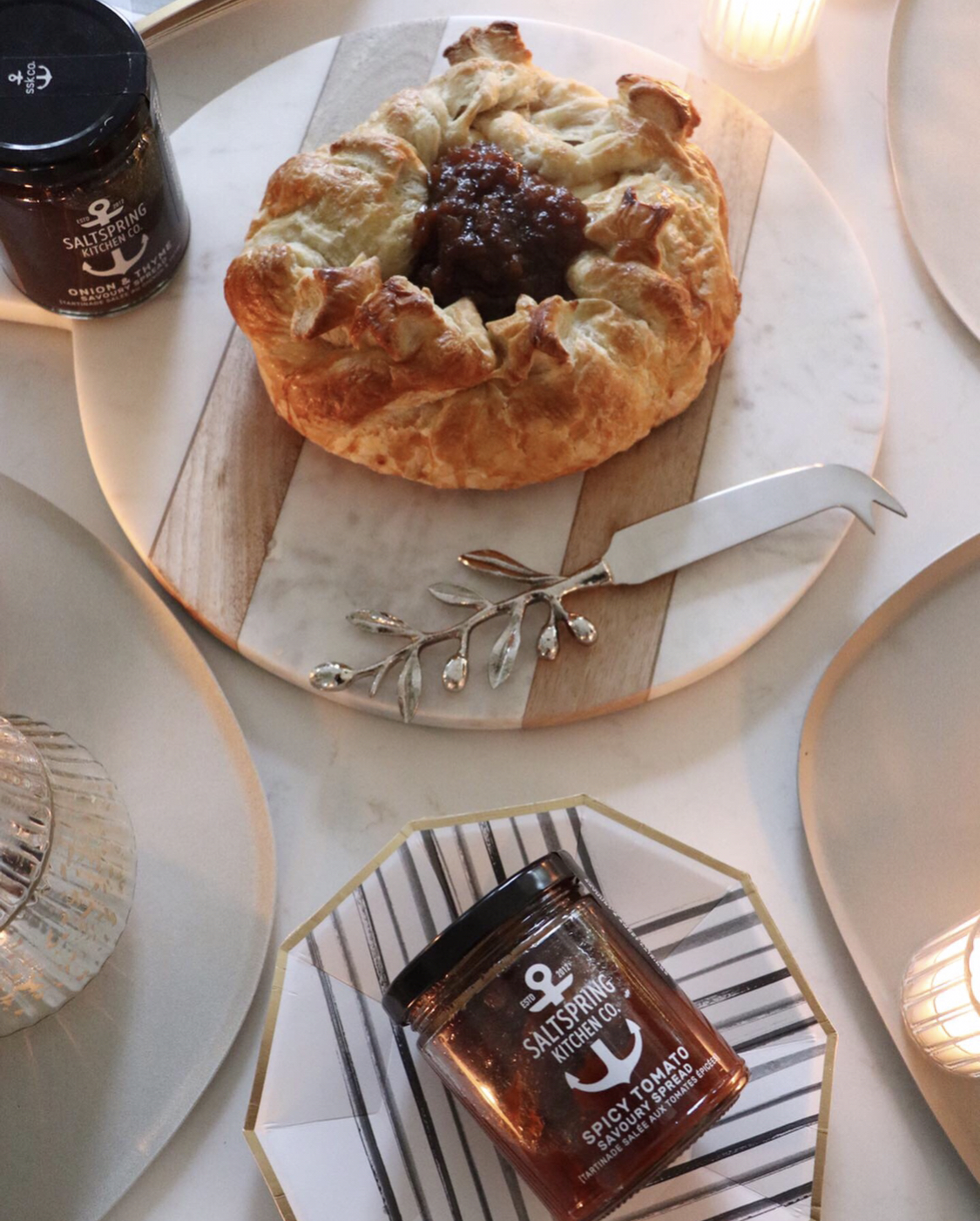 The EASIEST Baked Brie Ever!
(using Perfect Pastry Puff Pastry – available frozen at Bradshaws in our Kitchen Department)

1 Portion Perfect Pastry Puff Dough
1 egg yolk + 1 tsp water whisked together (save egg white for the following recipe!)
1 12 oz. Round of Brie, rind on
1 jar Saltspring Kitchen Spicy Tomato Chutney
A couple sprigs of rosemary for Garnish

Preheat oven to 425F

Thaw Perfect Pastry Puff dough in package to room temperature
Lightly flour counter and roll out dough to roughly 1/4" thick with a floured rolling pin
Place Puff pastry dough on a parchment-lined baking sheet and centre Brie on pastry
Casually fold edges of dough towards the centre by pinching and pleating (no need to be meticulous in this step – go free-form!)
Lightly brush the top of the puff pastry with egg wash using a pastry brush
Bake at 425F for 25 minutes rotating the baking sheet once after 12 minutes
Serve on a wood or marble board with a giant scoop of Saltspring Kitchen Spicy Tomato Chutney in the centre and a couple of rosemary sprigs

*** If you pop this in the oven 10 minutes before your guests arrive, by the time they get in and get settled with a cocktail, this lovely app will be ready to enjoy!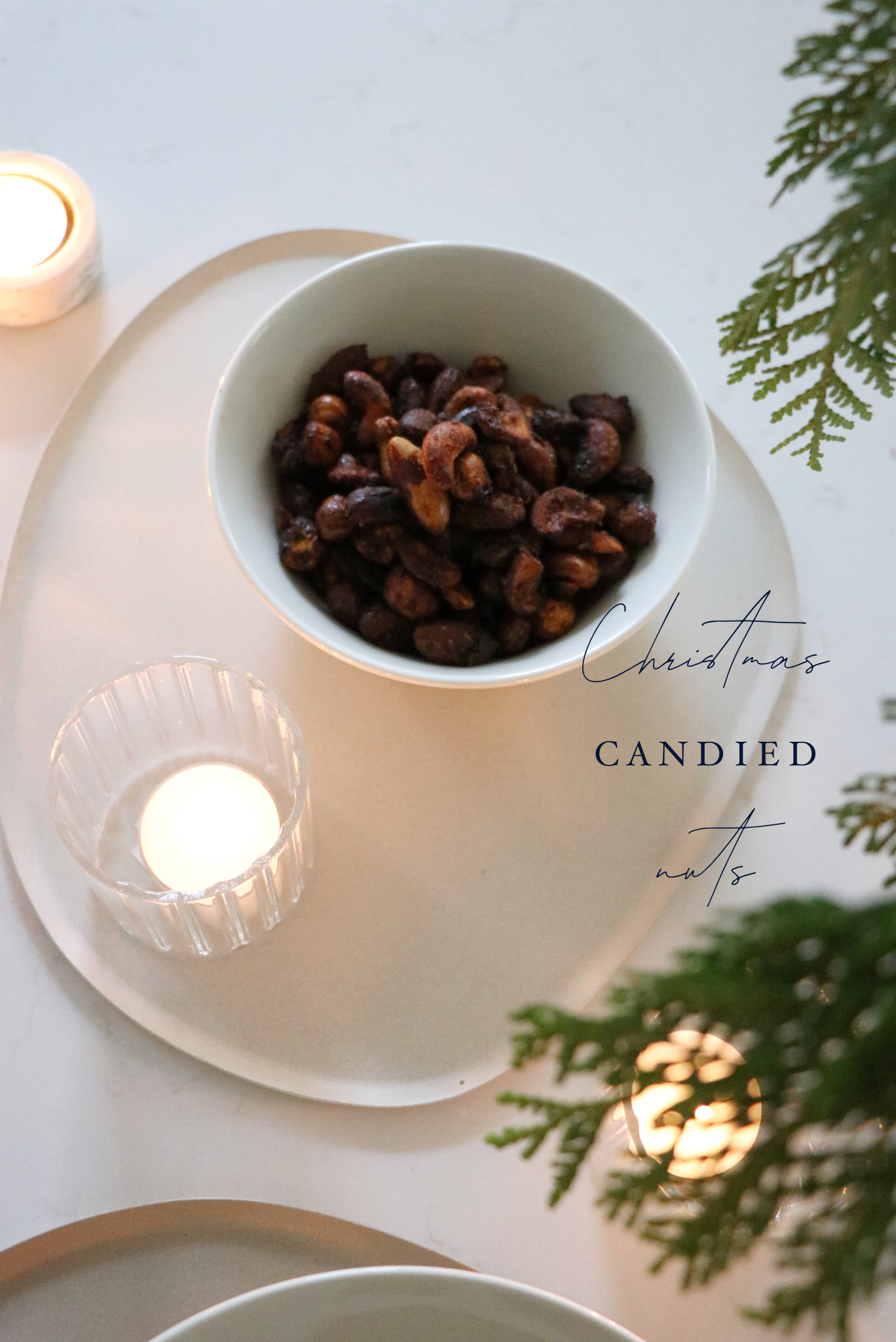 Christmas Candied Nuts Recipe
Candied Spiced (Addictive) Nuts

1 egg white (reserved from above recipe) + 1 tsp water whisked together
2 tbsp Coconut Oil or other neutral oil
3 cups nuts such as pecans, almonds and cashews (stay away from peanuts)
2 tbsp sugar
1/4 tsp cumin
1/4 tsp cayenne pepper
1/4 tsp chili powder
1/4 tsp cinnamon
1/4 tsp ground ginger
a couple of grinds of sea salt

Add all ingredients to a bowl and gently toss to coat nuts
Spread in a single layer on a parchment-lined rimmed baking sheet
Bake at 325 F for a total of 15 minutes stirring once midway through the process
*** The goal here is to get these nuts crispy and candied but not burnt! Make sure they look dry before removing from oven – this might take more than 15 minutes
Serve immediately or store in air-tight container up to a week
So many holiday traditions start in the KITCHEN. Get in the festive spirit with our NEW beautiful Christmas Aprons, linens, tea towels, and oven mitts!
We recently enjoyed a beautiful Christmas cocktail created by our friend Ian and we want to share the recipe with YOU. 
1 oz Junction 56 Pink Gin
topped with Fevertree Aromatic Tonic – available at Bradshaws
Garnish with Pink Peppercorns – also available at Bradshaws
and a sprig of rosemary
Served on crushed ice or with 1 oversized cube to reduce dilution
NEW – Bovi Sheldon pebble trays $44.95-$69.96, NEW Harlow & Grey Paper Plates
---
Share this post