We LOVE camping! It's our Happy Place, where we rest, relax and recharge in nature with our kids. Here is a peek at our recent week long stay in gorgeous Canis Bay in Algonquin Provincial Park. Here are some of our FAVOURITE camping must haves, and easy DELICIOUS recipes that we made while camping. 
This trip we went to Canis Bay,
Algonquin Park
(approximately 4 hours from Stratford) Rented a 18 foot ultralight Canoe at The Portage Store – loaded up all our stuff and paddled off to our site! 
Pictured above is the view of our a 2.2km hike to Beaver Pond.
We spent lots of time swimming, hiking, canoeing and taking in the gorgeous sunsets from our campsite. Our favourite towels for camping are our microfibre WACI – Compact, light-weight, super absorbent and DRIES FAST!! These towels roll up perfectly compact – ideal for packing!! Ezra loves this towel insisting it is so soft and dries his skin nicely.
Gigi going for a dip, sunlight twinkling on the water!
We went on daily hikes with the kids exploring a couple different Trails near our site. Whiskey Rapids (2.1km) and Beaver Pond (2.2km) and there are many other hikes ranging from beginner to advanced that  you can access  along the Highway 60 corridor! 
This is me in my happy place – camp cooking! I realized this year that I have been enjoying camping since I was about 6 years old, so, if you do the math, is almost 4 decades!! (please don't do the math)
My approach to cooking while camping is being prepared, doing some work in advance so it simplifies the process, and eating just as well (if not BETTER) while out in nature. I use lots of sauces, herbs, spices oils to prepare fresh meals which is what makes me happiest when camping. 
BREAKFAST
Waffles, Roasted Peaches and Turkey Sausages
Waffles and cooked peaches in maple syrup and cinnamon and Hayters turkey maple sausages in my
Lodge Cast Iron Skillet
(cheat: buy pre-made waffles in the fruit section at Sobeys. They are a delicious hybrid of Belgian waffle and donut! And they are individually wrapped and easy to travel with.) Cut and freeze your peaches in advance and store in a
Stasher

bag
. In another
Stasher

bag
, freeze your sausages.
DINNER
Sloppy Joes
I freeze 1.5 lbs of ground beef and pack it in my cooler. All I did was take it out an hour before cooking to thaw and threw it into my hot
Lodge Cast Iron Skillet
to brown. I brought along
Stonewall Kitchen Sloppy Joe Sauce
and added that and served it on brioche buns that I buy at Sobeys. EASY. We enjoyed this with a salad and radishes picked from Jeremy's veggie garden that he planted this year and Stonewall Kitchen
Maple Balsamic Dressing.
KID APPROVED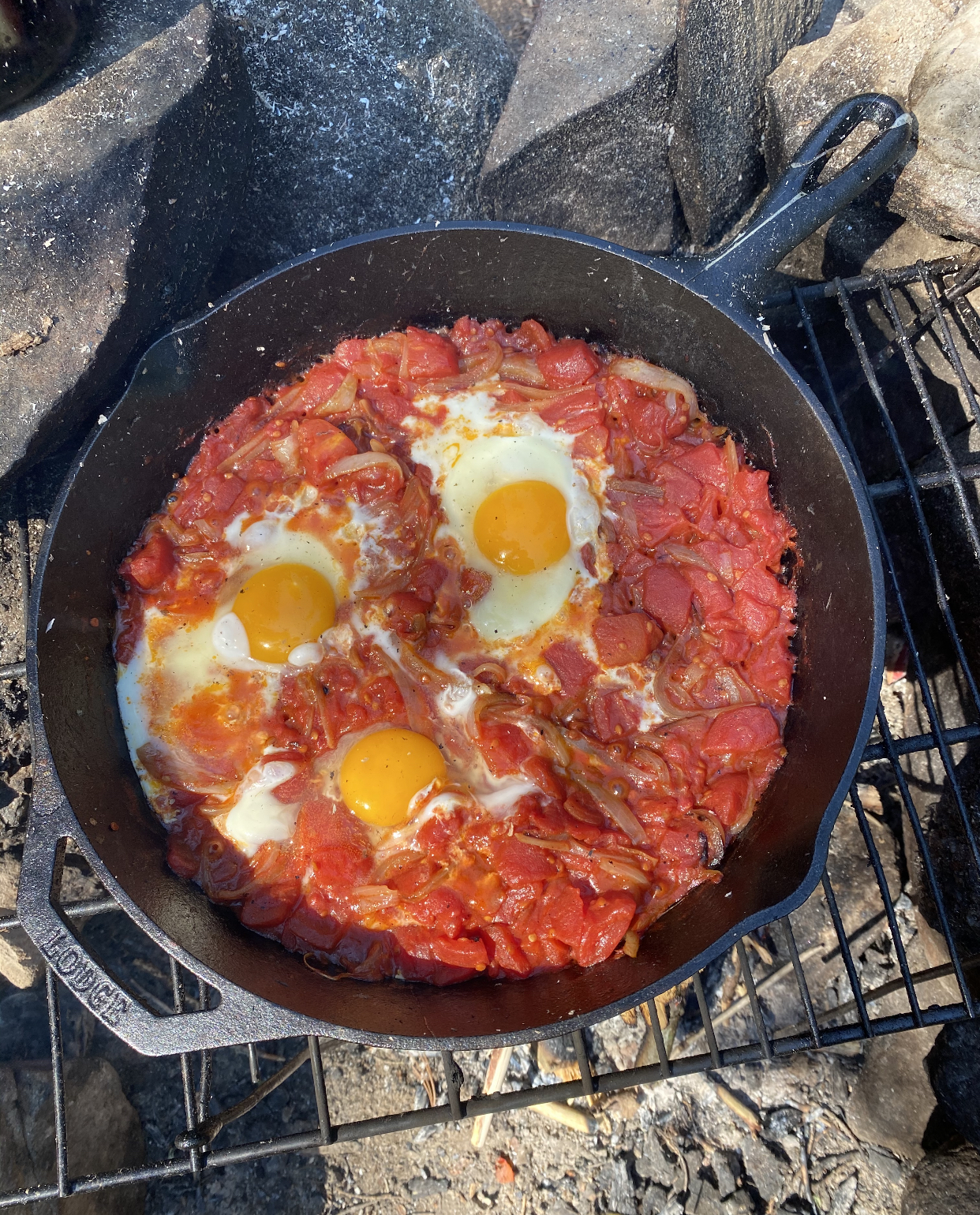 BREAKFAST
Shakshuka
I pre-sliced onions and put in a
Stasher bag
, Pre-froze a can of diced tomatoes with a couple of teaspoons
SMOKEY paprika
(available at Bradshaws)- KEY INGREDIENT and simply sautéed the onions till caramelized and then dumped in the tomatoes.
The essential bit here is to COOK those tomatoes really well.
Don't rush this process.
You need to get all those glorious sugars out of the tomatoes so be patient! Then make a few "wells" in the mixture and crack in a fresh egg into each well and cook until desired result. Top with cut up avocado and hot sauce! Serve with toast for dunking and any leftover turkey sausages!
Essential: Coffee made in my Bodum Stainless Steel Press and MORE Bailey's (don't judge)
Dinner: Smokey Chickpeas, sautéed onions and shrimps
 Super easy… I rinsed a can of chickpeas before the trip and put them in a Stasher Bag with olive oil, salt, and spices and brought a bag of frozen shrimp. Just sautéed the veggies and them added shrimp. YUM!
The hardest working item on our camping trip was definitely our Lodge Cast Iron Skillet. So versatile! A MUST have for making gourmet camping meals!
Another absolute must-have for camping – our line of STASHER Bags! I prepped ALL our meals in this plastic-free reusable bags! 
Stasher is revolutionizing how you store and cook food.  Easy to use and easy to clean, non-toxic Stasher bags can be used again and again!  THE healthy alternative to plastic. PERFECT for FOOD PREP and storage for CAMPING! I prepped ALL our meals in these bags and FROZE some of them. Marinated meats, and veggies, etc. Then just take them out the day of and let thaw while enjoying the camp site and cook up for dinner! So Easy!
We take our Fat Boy Bolleke Lights camping! They are the perfect nightlight for evening swims, great hanging off a tree to illuminate your camping area at night, for midnight trips to the washroom, or hanging inside your tent while you're hiding from mosquitos or the rain while playing cards or reading.
Our FAVOURITE line of all natural products for keeping the bugs away AND nourishing your skin AFTER SUN – Skeem.  
The Skeem Design Citronella Verbena All Natural Outdoor Body Spray is an  all-natural spray and is formulated with citronella oil, lime, soy bean and castor oils to smell great while keeping biting bugs at bay.  The formula contains no chemicals or DEET, and should be applied to bare skin before enjoying outdoor activities.  Citronella is a proven, all-natural, insect repellent made from the leaves and stems of the lemongrass plant.  It repels insects by masking the smells biting insects are attracted to.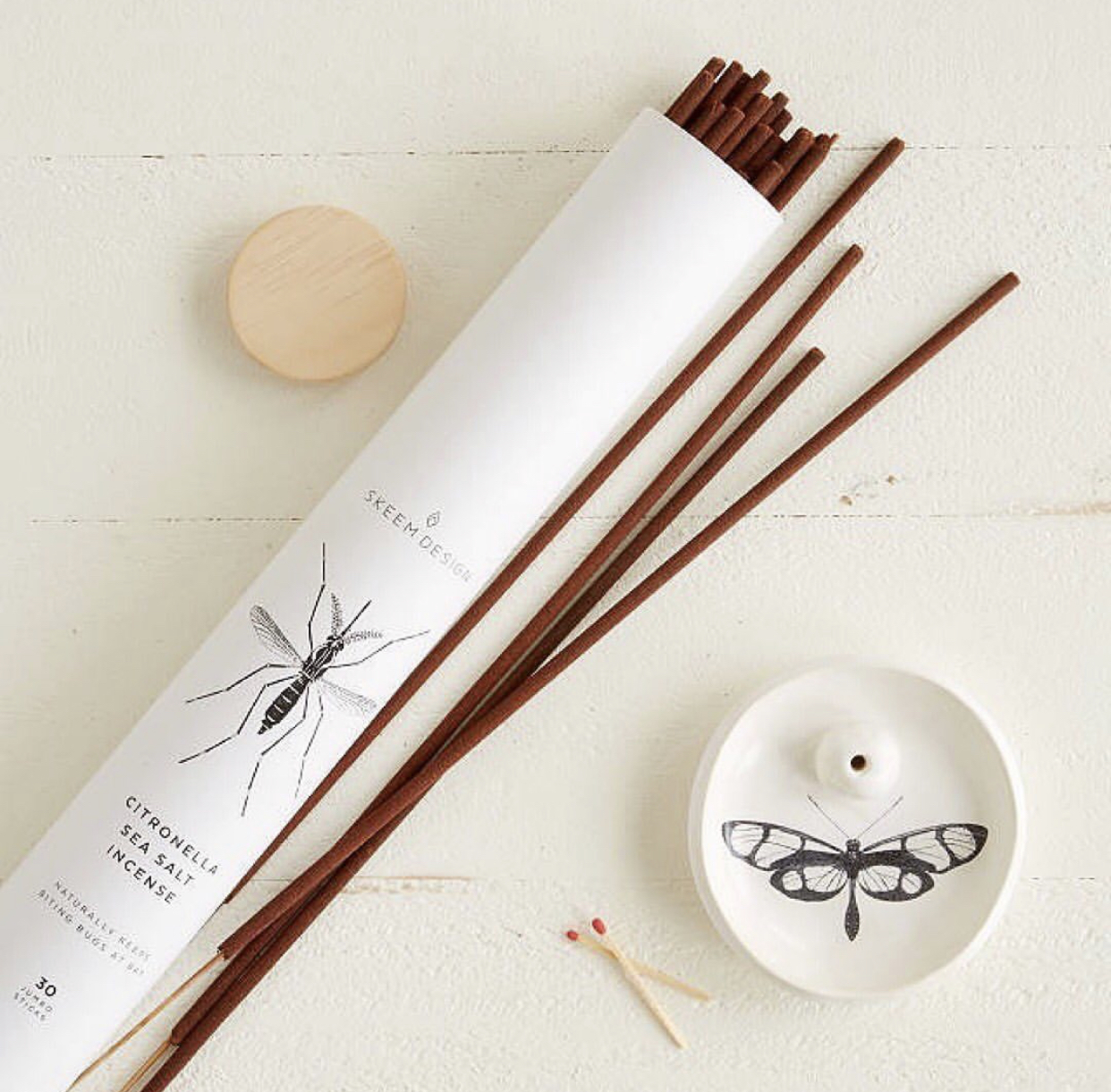 The Skeem Design Citronella Sea Salt Outdoor Incense is blended with ocean air and sea salt, with hints of jasmine.  Formulated to be used outdoors, each stick will help you enjoy your outdoor entertaining for up to an hour.  Citronella is a proven, all-natural insect repellent made from the leaves and stems of the lemongrass plant.  It repels insects by masking the smells biting insects are attracted to.  The Skeem Design citronella oils are blended with fine fragrances to smell as good as they look.
---
Share this post