We've once again teamed up with Tracey of Perfect Pastry to bring you a Perfect Sunday Night Dinner recipe…
Her famous Steak & Guinness Pie and Mushroom Pie. 
We are FULLY stocked with Perfect Puff Pastry in our freezer at Bradshaws!
Pop in and pick some up to make THIS weekend!
Steak and Guinness Pie
This gorgeous stew is made in an oven proof pot. It is then poured in to a 9"x13" casserole dish or
individual ramekins and topped with puff pastry that has been pre-baked on its own beforehand.
1 lb stewing beef
2 onions, sliced
3 cloves of garlic, minced
1 spring rosemary
2 tbsp Olive oil
1 tbsp butter
3 celery stalks diced
8 oz mushrooms cut in quarters
1 can Guinness beer
2 tbsp flour
1 ½ cups beef stock
2 cups grated old white cheddar
1 package of Perfect Puff Pastry, defrosted
Directions:
Sautée onions in olive oil until slightly brown in a deep Dutch Oven or other oven proof pot. Add
sprig of rosemary, minced garlic, celery, mushrooms and butter.
Add beef, season with salt and pepper. Sprinkle flour over the beef and stir to coat. Add can of Guinness
and stock.
Cover with lid and bake at 350F for 2 hours
Remove from the oven, stir in 1 cup of the grated cheddar and allow to cool.
Ladle the stew into desired serving vessels. Sprinkle the remaining cheddar on top.
Roll out pastry on a lightly floured surface. Decoratively score the pastry if you wish, brush with egg
wash (1 egg mixed with a tsp of milk) and drape over the dish being careful not to let the dough touch the surface of the stew. Place on a baking sheet and bake at 400F for approximately 40 minutes or
until pastry is puffed and golden and filling is bubbling.
1 package of Perfect Puff  *AVAILABLE at Bradshaws* to cover a 9×13 dish or approximately 8 ramekins
* If you are making individual pies, I recommend baking the pastry lids separately. To cut out the lids,
just invert the ramekin on the rolled out pastry and trace with a knife. Place the puff cut outs on a
parchment lined baking sheet, brush with egg wash and bake at 400F until puffed and golden –
approximately 15 minutes. Just before serving, ladle the hot stew into the ramekin and top with the
prepared pastry lid.
This method allows the the pastry to rise as high as possible as it is not weighed down by the liquid in
the stew. A showstopper every time!
For a MEATLESS alternative, omit the beef and use vegetable stock instead of beef stock and sauté 2 pounds of assorted mushrooms into the onion and celery mixture. Reduce oven cooking time to 1 hour.
Serve with a crisp green salad and or steamed peas with fresh mint and EASY artisanal crusty bread….
or Irish Soda Bread to sop up the delicious stew juices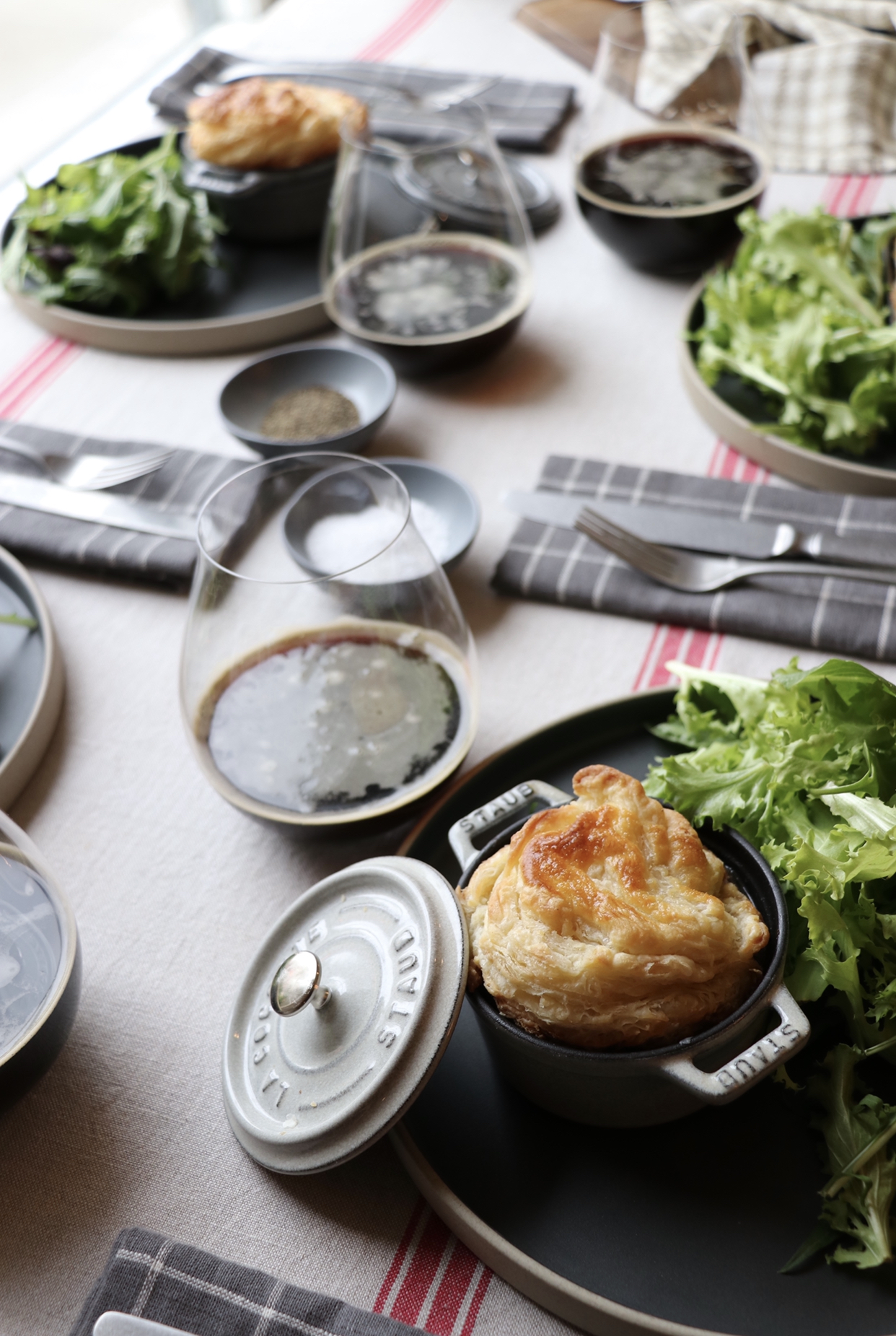 Cooked to absolute perfection in our Staub Cast Iron casserole dish and for a gorgeous individual serving presentation – cook in our mini Staub Cast Iron round Cocottes.
A HUGE thank you to Tracey Pritchard of Perfect Pastry for sharing this delicious recipe with us.
Make sure to keep an eye on her new business The Flour Mill, located in St. Marys, Ontario and follow along to see
all the exciting projects she has on the go for 2020!
---
Share this post