The GIFT of lasting quality! Le Creuset. 
SHOP Le Creuset at Bradshaws this Christmas! Le Creuset has been synonymous with heirloom quality and on trend colour for nearly a century and is a customer FAVOURITE at Bradshaws. 
In 1925, in the midst of all the culinary innovation and change, Le Creuset introduced the first vibrant, Flame-coloured enamelled cast iron cocotte. This ground-breaking cocotte took a kitchen staple—cast iron cookware—and refined it, making it more functional, more beautiful and deeply joyful.
The vibrant palette of Le Creuset tableware brightens every meal. Crafted for people who love to cook, eat and entertain, this collection of sturdy stoneware plates, bowls and mugs is designed to stay beautiful through daily use. This 16 piece set seamlessly takes you from casual breakfast to elegant dinner party for 4. Consisting of Dinner Plates, Dessert/Salad Plates, Coupe Pasta Bowls and, Mugs this assortment provides a solution to any meal or snack you might be serving.
Le Creuset stoneware is perfectly suited to baking pies, quiches, casseroles and more. It heats evenly, to prevent hot spots and cook food in a uniform fashion. The result is a golden brown crust with fully cooked ingredients throughout.
This set of silicone tools represents an assortment of the innovative Revolution® range, making a perfect gift for outfitting a new kitchen or simply updating an existing collection. Each utensil features a task-defined blade made from premium silicone and the set includes Jar Scraper, Small Spatula, Medium Spatula, Spatula Spoon and Basting Brush as well as a Stoneware Utensil Crock.
Some say coffee prepared in a French press is the way every cup should be savored. Coarsely ground coffee beans are steeped in boiling water, and then filtered away by plunging the Stainless Steel mesh sieve through the press. Direct contact between the beans and the water means a stronger flavor. Loose tea leaves can also be steeped in a French press. Heat-retaining stoneware keeps coffee warm.
Long appreciated as both a cooking and serving dish, the Pâté Terrine is drawn from early Le Creuset designs of the 1930s and 1940s, when it was used for a wide variety of recipes including foie gras, breads, cakes, custards and head cheese.
The enamelled cast iron Pâté Terrine makes a stylish serving pan and its temperature retention properties allow the dish to remain hot or cold at the table until food is ready to serve.
Le Creuset Baguette Recipe
INGREDIENTS
1 cup (250 ml) all-purpose flour
1 cup (250 ml) bread flour
¼ tsp (1.25 ml) instant yeast
2/3 cup (170 ml) warm water (105°F to 110°F)
1 tsp (5 ml) kosher salt
1 tbsp (15 ml) vegetable oil
Semolina flour or cornmeal, for dusting
INSTRUCTIONS
In the bowl of a stand mixer fitted with the dough hook, combine both flours, the yeast, water and salt. Mix on low speed until a rough, shaggy dough forms, about 2 minutes. Turn the dough out onto a clean surface and knead for 2 minutes or until the dough comes together. Shape into a ball, place into a lightly greased bowl, turning to coat in the oil. Cover the bowl with plastic wrap and place in a warm spot (75°F to 80°F) to rise for 1 hour.
Turn the dough out onto a very lightly floured surface. Fold the dough over itself in thirds (as if folding a business letter). Alternate folding the dough from top to bottom and side to side for a total of four turns, gently flattening the dough into an oval before each turn. Let the dough rest, covered, for 1 hour. 
Repeat the folding process as described in Step 2 and let rest, covered, for another hour.
Turn the dough out onto a very lightly floured surface. Halve the dough; cover and refrigerate one portion. Shape the other portion into an 8-inch long oval. With one long side of the oval facing you, fold the top third of the dough into the centre and gently press to hold the edge in place. Fold the dough in half lengthwise. With the seam at the bottom, use your palms to roll the dough into a 10-inch-long log by slowly rolling first in the centre of the dough and then working your way outward to the ends. Stretch and pinch the ends to form thin points. (At this stage, you can shape the other portion of dough and refrigerate it on a sheet of parchment paper sprinkled with semolina, or you can wait until the first loaf comes out of the oven and the terrine cools to shape and proof it).
Oil the inside of a rectangular terrine and dust all over with semolina flour. Place the dough seam-side-down in the terrine and cover with the lid. Place in a warm spot (75°F to 80°F) to rise until nearly doubled in size, about 90 minutes.
Preheat the oven to 450°F (230°C).
Use a sharp knife or baker's lame to score the top of the loaf with three short slashes. Do not cut deeply into the dough. Spritz the loaf with water.
Cover with the lid and bake for 20 minutes. Uncover and continue baking until the baguette is dark golden brown, about 10 minutes more. When done, the loaf will sound hollow when firmly tapped on the bottom. Turn the loaf out onto a wire rack to cool to room temperature.
Let the terrine cool before proofing and baking the second baguette.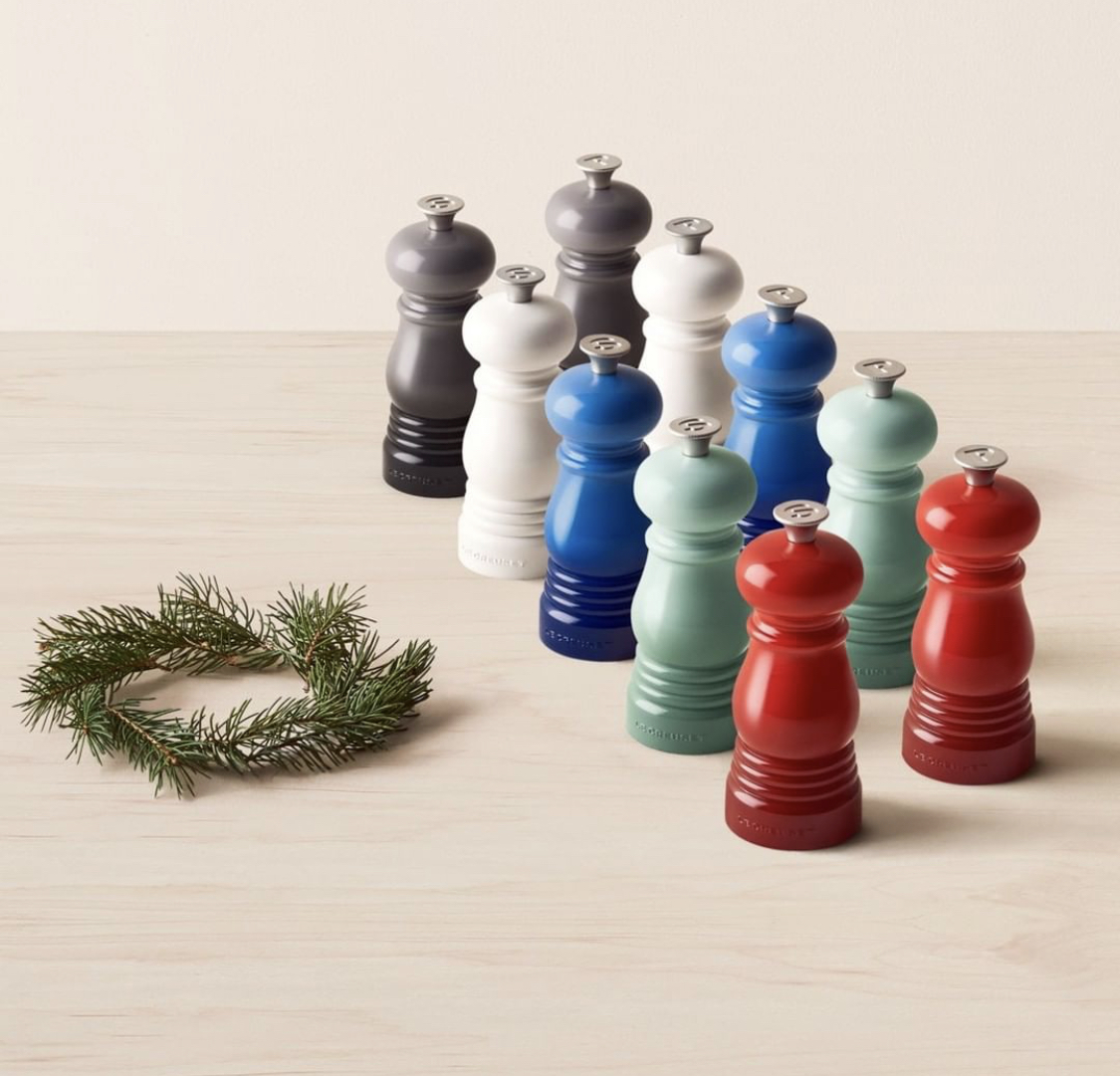 Le Creuset's new 11 cm Pepper Mills are a beautiful combination of modern technology, classic form and our iconic colours. The ceramic grinder is strong enough to crack peppercorns and corrosion-resistant for grinding salt. Adjust the grind setting with a simple turn of the knob. Their smaller size make them perfect for the dinner table, breakfast nook or as host gifts.
Nothing beats the aroma of freshly brewed tea or coffee, and such an important daily ritual calls for a stylish stovetop kettle. The modern design of our Kone kettle brings a stunning new look to both traditional and contemporary kitchens.
Suitable for all heat sources, including induction, this Le Creuset kettle is crafted from premium stainless steel.
---
Share this post